"Blessed are they who expect nothing, for they are seldom disappointed."
__
Quick note: There will be no Book Chat this Wednesday, due to out-of-town visitors. Don't count on my posting much for the next few days (yeah, yeah, 'disappointment' is not the word for that).
__
Meanwhile, a photo via Dave Weigel: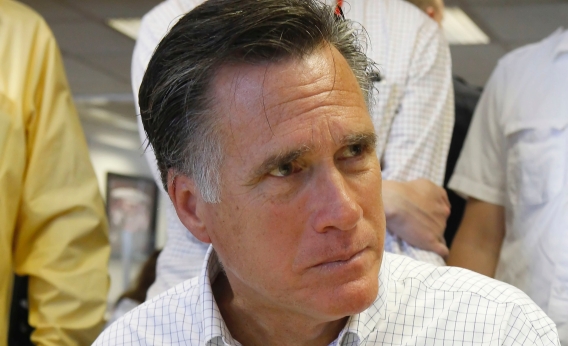 And reminders from Steve Benen at the Washington Monthly that, whether you're discussing domestic issues…
It's awfully difficult for a presidential candidate, when pushing one of the central themes of his campaign, to make an argument, then take the opposite side of the argument, then go back to the original argument, all in the course of a week.
__
It's even more difficult to execute the rare flip-flop-flip, and manage to get the underlying issue wrong in each instance. But when it comes to shifting with the wind, Mitt Romney is, shall we say, unique.
__
Let's quickly review. Mitt Romney aggressively pushed the argument that President Obama made the economy "worse." Romney was lying, and even after the claim was proven false, the Republican frontrunner repeated it anyway.
__
A few days after repeating the bogus line, Romney reversed course, telling reporters, "I didn't say that things are worse…. What I said was that economy hasn't turned around." This was a lie about a lie, wrapped in a lie — he had said things are worse, and all available evidence shows the economy has turned around from the crisis levels of 2008 and 2009.
__
Yesterday, Romney reversed course again…
… or foreign policy… When it comes to Willard 'Mitt' Romney, if you bet on "always wrong, never in doubt", you will be seldom disappointed.