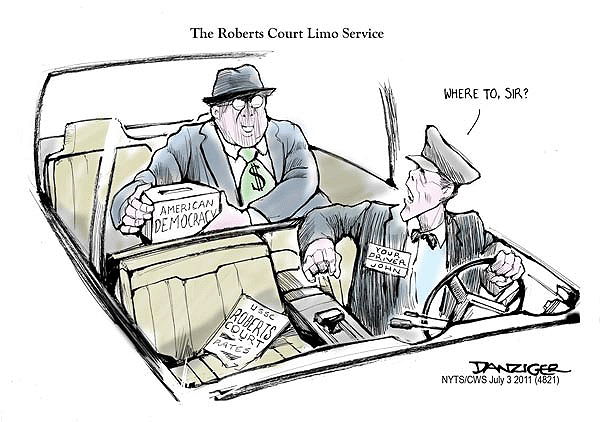 (Jeff Danziger's website)

In case anybody's got some attention to spare from panicking over the short term, Dahlia Lithwick at Slate has published one of her trademark thoughtful (and thoroughly depressing) articles on how "the Supreme Court [is showing] corporate America how to screw over its customers and employees without breaking the law":
Depending on how you count "big cases," the Supreme Court has just finished off either a great (according to the U.S. Chamber of Commerce) or spectacularly great (according to a new study by the Constitutional Accountability Center) term for big business. The measure of success here isn't just the win-loss record of the Chamber of Commerce, although that's certainly part of the story. Nor is it news that—in keeping with a recent trend—the court is systematically closing the courthouse doors to everyday litigants, though that's a tale that always bears retelling. The reason the Roberts Court has proven to be Christmas in July for big business is this: Slowly but surely, the Supreme Court is giving corporate America a handbook on how to engage in misconduct. In case after case, it seems big companies are being given the playbook on how to win even bigger the next time…
By all means read the whole thing, and you might want to scan some of her links, too. (Netflix, incidentally, will let you add Hot Coffee to your 'Save' queue.) Alito and Thomas may get the headlines, but I'm still of the opinion that Chief Justice John Roberts is the single greatest anti-American traitor on the current SCOTUS bench.