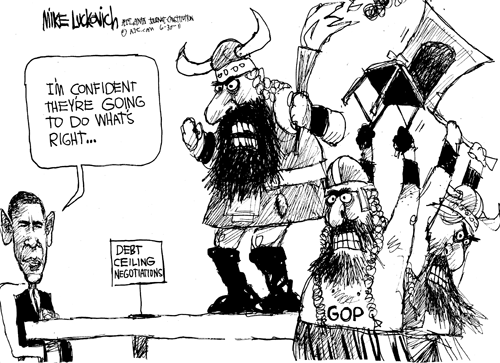 (Mike Luckovich via GoComics.com)
The Conventional-Wisdom momentum may finally be shifting, however slowly, in favor of the Sane People's Party. Eugene Robinson, at the Washington Post, thinks President Obama has called the GOP's bluff:
… Obama's in-your-face attitude seems to have thrown Republicans off their stride. They thought all they had to do was convince everyone they were crazy enough to force an unthinkable default on the nation's financial obligations. Now they have to wonder if Obama is crazy enough to let them.
__
He probably isn't. But the White House has kept up the pressure…
__
My view, for what it's worth, is that now is the wrong time for spending cuts or tax increases — that it's ridiculous to do anything that might slow the lumbering economic recovery, even marginally. But if there have to be cuts, then Republicans must be forced to move off the no-new-revenue line they have drawn in the sand.
__
Even if they move just an inch, the nation's prospects become much brighter. This fight is that important…
__
Maybe that's why, in this stare-down, the president doesn't seem inclined to blink.
Steve Benen at the Washington Monthly, on the other hand, points out that the GOPers are doubling down:
… I'm also fascinated by the notion that McCain suddenly believes mandates matter. Barack Obama sought the presidency promising to raise taxes on those making more than $250,000 a year. If memory serves, he did pretty well when voters had their say. By McCain's reasoning, doesn't that mean the president should have his way, too?
__
But it's the "they don't want compromise" line that really stands out. From McCain's bizarre perspective, Americans simply want Democrats to accept the Republicans' unpopular agenda — all of it — and see no need for compromise between the parties.
__
It's a reminder about the extent to which the parties are approaching this process very differently. Democrats believe it's a negotiation, and both sides will make concessions to reach an equitable agreement. Republicans believe it's a transaction, and Democrats must simply give the GOP what it demands.
And yet the most significant indicator of a change in the political winds are the latest columns from two of the Media Village's most notorious hacks: Richard "Caligula's Horse" Cohen titles his "A Grand Old Cult".
… This intellectual rigidity has produced a GOP presidential field that's a virtual political Jonestown. The Grand Old Party, so named when it really did evoke America, has so narrowed its base that it has become a political cult. It is a redoubt of certainty over reason and in itself significantly responsible for the government deficit that matters most: leadership. That we can't borrow from China.
And David "BoBo" Brooks, the man who never met a bankster to whom he wouldn't bow, lavishes several paragraphs of slavering praise on the "Republican leaders [who] have changed American politics" and "proven to be effective negotiators… tough & inflexible and forced the Democrats to come to them" before turning in a different direction:
If the Republican Party were a normal party, it would take advantage of this amazing moment. It is being offered the deal of the century: trillions of dollars in spending cuts in exchange for a few hundred million dollars of revenue increases…
__
But we can have no confidence that the Republicans will seize this opportunity. That's because the Republican Party may no longer be a normal party. Over the past few years, it has been infected by a faction that is more of a psychological protest than a practical, governing alternative…
__
The members of this movement have no sense of moral decency. A nation makes a sacred pledge to pay the money back when it borrows money. But the members of this movement talk blandly of default and are willing to stain their nation's honor…
__
The struggles of the next few weeks are about what sort of party the G.O.P. is — a normal conservative party or an odd protest movement that has separated itself from normal governance, the normal rules of evidence and the ancient habits of our nation.
__
If the debt ceiling talks fail, independents voters will see that Democrats were willing to compromise but Republicans were not. If responsible Republicans don't take control, independents will conclude that Republican fanaticism caused this default. They will conclude that Republicans are not fit to govern.
__
And they will be right.