From the Guardian website: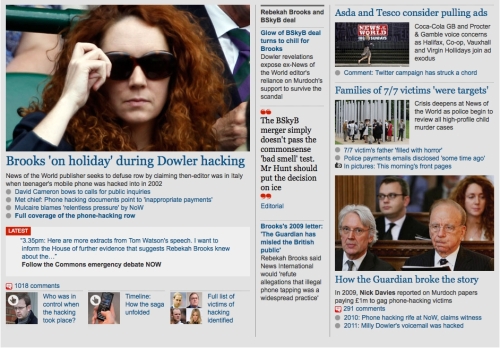 David Cameron has bowed to pressure to hold public inquiries into the "absolutely disgusting" allegations of phone hacking by journalists at News of the World, and into the original police investigation into the scandal.
The phone-hacking crisis enveloping the News of the World has intensified after it emerged that Scotland Yard has started to contact the relatives of victims of the 7 July 2005 attacks to warn them they were targeted by the paper.
Ofcom has put out a statement on its website about its ability to intervene in the BSkyB takeover. Here it is.

In the light of the current public debate about phone hacking and other allegations, Ofcom confirms that it has a duty to be satisfied on an ongoing basis that the holder of a broadcasting licence is 'fit and proper'.

It is clearly not for Ofcom to investigate matters which properly lie in the hands of the police and the courts, however we are closely monitoring the situation and in particular the investigations by the relevant authorities into the alleged unlawful activities.
From a speech in parliament by Labour MP Tom Watson:
I want to inform the House of further evidence that suggests Rebekah Brooks [chief executive of News International] knew about the unlawful tactics of News of the World as early as 2002, despite all her denials yesterday. Rebekah Brooks was present at a meeting with Scotland Yard when police officers pursing a murder investigation provided her with evidence that her newspaper was interfering with the pursuit of justice. They gave her the name of another executive at News International, Alex Marunchak. The meeting, which included Dick Fedorcio of the Metropolitan police, told her that News of the World staff were guilty of interference and party to using unlawful means to attempt to discredit a police officer and his wife. She was told of actions by people she paid to expose and discredit David Cook and his wife Jackie Haines so that Mr Cook would be prevented from completing an investigation into a murder. News International were paying people to interfer with police officers and were doing so on behalf of known criminals. We know now that News International had entered the criminal underworld.

She cannot deny being present at this meeting when the actions of people she was paying were exposed. She cannot deny now being warned that under her auspices unlawful tactics were being used with the purpose of interfering with the pursuit of justice. She cannot deny that one of her staff, Alex Marunchak, was named and involved. She cannot deny either that she was told by the police that her own paper was using unlawful tactics, in this case to help one of her law-breaking investigators. This in my views shows her culpability goes beyond taking the blame as head of the organisation. It is about direct knowledge of unlawful behaviour.

And was Mr Marunchak dismissed. No. He was promoted.
Shares in News Corporation and BSkyB fell as the News of the World phone hacking scandal put Rupert Murdoch, and his bid to take control of the satellite broadcaster, under fresh scrutiny.

News Corp shares fell on Wednesday by 3.3%% in early trading on Wall Street to $17.56, (£11) as US investors reacted to the latest developments. BSkyB shares fell as low as 818p in London, a fall of more than 3% or 27p.
Cry me a river…