Evelyn sends up the SOS:
John,

I know that it has been a very short time since you and your followers helped us so very much with Cooper but we just got Mary Beth last week.

She is one of the sweetest beagles that I have ever seen. She was brought to shelter as a stray. Probably put out after being unable to "make puppies" any more. She was filthy, covered with fleas and ticks and had several pressure point sores due to obviously laying only on dirt or concrete and a severe ear infection which is being treated now.

Took her to vet and and the growth on her stomach is mammary cancer. She will need one possibly two surgeries depending on extent of cancer. She is heart worm negative which is a very good thing. X-Rays were taken of her lungs and no cancer there. Vet thinks her prognosis after surgery should be good. She is in a wonderful foster home who report that she is very well mannered and housebroken and gets along with their personal rescued hounds. Medical expense is expected to be $1,000. I am asking if you will make another plea for help with her care.

I have attached pictures.

Thanks so much for all that you have done to help our rescued dogs.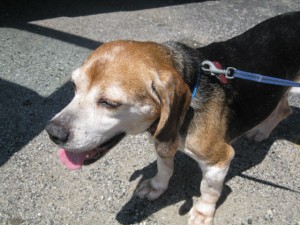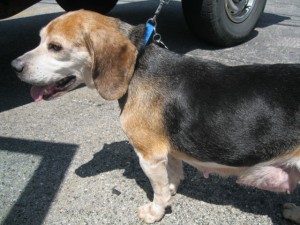 Now I don't need to remind you how I feel about beagles in general, but how can I not help out that sweet little girl? I'm in for $50.00. If you can help out, please do so.