There is a sign above my house (invisible to humans) that apparently reads:
Suckers live here. They will feed and care for every feline that shows up here! We have four formerly ferals that have taken over our lives. A fifth has been spent most of the last two years in our backyard expecting to be fed, but too shy to come into the house.
__
Two weeks ago, I went out to get the mail and was captured by a little black creature with big ears and golden eyes. He treated me like a long-lost friend and had no qualms about inviting himself into my home. I've tried to find out where he came from. None of the neighbors will admit to knowing him, none of them would like to take him in. I'm stuck. Every cat rescue that I have contacted is full to overflowing and they won't take him. I've tried the checkers and the baggers at the grocery store. I even tried to pawn him off on the cable installer yesterday. I failed! My husband has hit up everyone at his office and everyone in the community groups that he belongs to. He failed! My son has tried to convince his friends that they need a kitten in their lives. He failed, too!
__
I know there are some northern California BJ animal lovers. Hopefully thereare some in Sacramento or Placer counties. Maybe one of them needs an adorable little purring machine to keep them company. He is already an accomplished keyboard cuddler. He loves other cats. Unfortunately, the four that already live here don't see any reason to add a fifth. Besides, the legal allowable limit in my county is four. I have already scheduled an appointment with my vet for vaccinations and nuetering. I will happily add microchipping if I can find someone who can give him the home that he deserves. I have attached some blurry photos of the sweet little baby. Hopefully, someone will fall in love and want to keep him.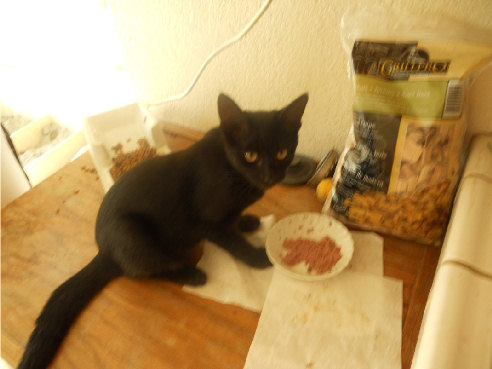 ***********
Anne Laurie adds: If this little guy were closer than the other side of the country, I'd be looking for a way to bring him to our house — I dearly love little black mao-cats! Anyone fortunate enough to live closer who's got any leads, please email me at [email protected] (or click on my name near the top of the right-hand column) and I'll pass your message along…