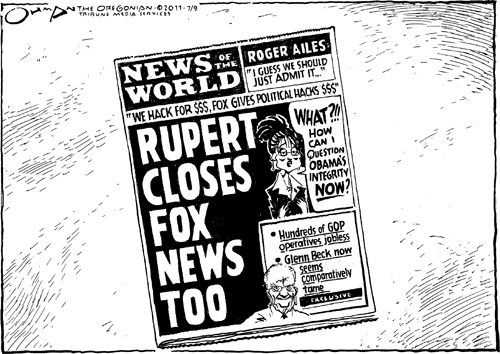 (Jack Ohman via GoComics.com)
__
Nick Davies and his fellows at the Guardian are, quite deservedly, basking in the sweet schadenfreude of the News of the World phone-hacking scandal. Murdoch's "fifth daughter" Rebekah Brooks is dropping hints that she's got plenty of explosive nastiness left to trade, the usual suspects are speculating about the dynastic challenges within the mustelidaean Murdoch clan, and famous former targets of 'Rupert the Dirty Digger' are gleefully bashing him on-camera. Murdoch's bid to establish a British version of Fox News has been, at the least, seriously compromised. There might even be Parlimentary repercussions.
Hat tip to commentor Pongo:
Rupert's son may be brought up on charges for paying hush money and the Prime Minister, David Cameron, is under attack for bringing a former Murdoch editor, Andy Coulson, into the inner sanctum as his press adviser AFTER he had already been arrested once on charges related to illegal phone hacking (he's just been arrested for the second time yesterday and is out on bail)… Cameron, Andrew Sullivan's man-crush, brought a known Murdoch spy into the Prime Minister's office and gave him top security clearance. Is it just me, or does this seem like a really, really bad idea? Murdoch is certainly powerful enough to sweep a lot under the rug, but this might get too ugly even for his cleaning machine.
Of course, a few arrests on some exotic overseas island are not going to make much of an impression on Fox viewers in Heartland America(tm), but perhaps the vast sums required to staunch the wounds to his global empire will further estrange Murdoch (or whomever ends up with control of the news division) from Roger Ailes and his expensive support of the GOP Clown Parade?