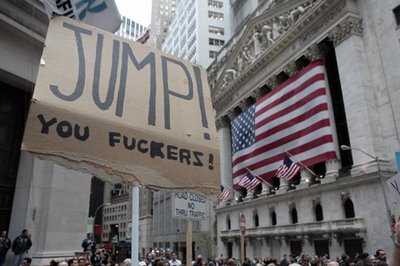 I still think winegate is a bunch of nothing, but it is kind of depressing to know the quality of wingnuts our congresscritters are hanging out with:
Asness, who ordered the wine and who, according to Feinberg was the one who said "Fuck her," is better known as a high-profile hedge fund manager. Asness founded and runs AQR Capital, which manages an estimated $26 billion in a variety of traditional products and hedge funds, and his life story has been the subject of numerous books and articles about the rise and fall of Wall Street. He's also grabbed headlines for being one of the most voluble opponents of President Obama's economic policies.

ABC's Jake Tapper ran an illuminating piece on Asness in May of 2009, describing him as having "a name and occupation straight out of Dickens" after he wrote an angry open letter to Obama — "Unafraid in Greenwich, Connecticut" — in which he blasted the President's attacks on hedge fund owners refusing to go along with his administration's plans for Chrysler.

"Who came up with the title for the letter?" Tapper asked parenthetically in his piece. "Axelrod? Perhaps 'Bold and on My Yacht' was too subtle."

Cochrane, the other, more tempered dinner companion, is the AQR Capital Management Distinguished Service Professor of Finance at the University of Chicago, an apparent tip of the hat to the contributions Asness' AQR Capital Management has made to the Booth School of Business there.
Asness is the jackass who wrote this whiny letter. I'm still choosing the skunk.