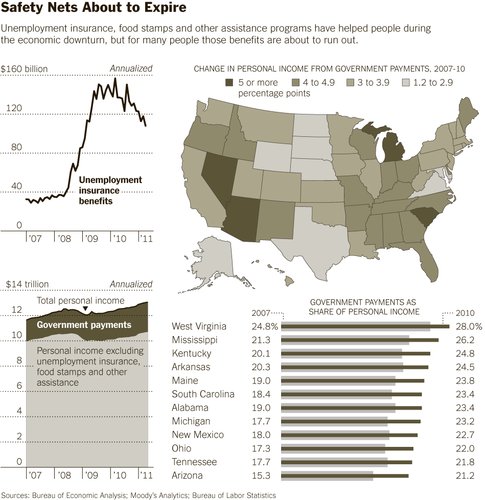 This Times graphic and the accompanying story are an interesting contrast to the fantasy world of sacrifice and stimulus denial that characterizes a lot of Republican rhetoric. On average, $2 of every $10 of income is a government payment, and it's more in the predominantly red states noted above. When that runs out, consumer spending will take another nose dive, since poor people actually have to spend every penny they get from the government. And, by the way, there are no jobs to be had:
In Arizona, where there are 10 job seekers for every opening, 45,000 people could lose benefits by the end of the year, according to estimates from the state Department of Economic Security. Yet employers in the state have added just 4,000 jobs over the last 12 months.

Some other states will also feel a disproportionate loss of income unless hiring revives. In Florida, where nearly 476,000 people are collecting unemployment benefits, employers have added only 11,200 jobs in the last year. In Michigan, employers have added about 40,000 jobs since May 2010, but about 267,000 people are claiming jobless benefits.