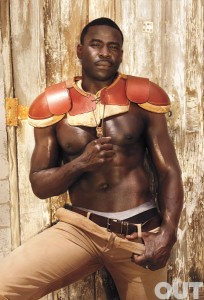 I'm kind of pissed by that New Yorker pop music sophisticated exegesis of a sociological phenomenon that Anne Laurie rightly mocked. When will it end? How many ways can you say "white black people drive a car like this beep beep, black guys drive a car like this BEEP BEEP"? And it's in no way restricted to black/white — Democrats go to Whole Foods, Republicans go to Applebee's…rinse, repeat.
ENOUGH!
I was cheered up to see a straight professional athlete — even though I know Michael Irvin isn't everyone's favorite — appearing shirtless on the cover of a gay magazine to support marriage equality:
"I don't see how any African-American with any inkling of history can say that you don't have the right to live your life how you want to live your life. No one should be telling you who you should love, no one should be telling you who you should be spending the rest of your life with. When we start talking about equality and everybody being treated equally, I don't want to know an African-American who will say everybody doesn't deserve equality."

Love him or hate him, Michael Irvin doesn't care. He's on a mission. He hopes opening closet doors for gay people will be a key chapter in his life story. "I have to make sure we do things to bring people together.
Everybody ought to feel this way, any one of us could be basically the same person we are only a different race, or a different sexual orientation, or prone to buying different music at Starbucks.
In my darker moments, I think the Galtians are doing the same shit to us now that the British did to the Hindus and Muslims in India, keeping us divided so that they can exploit us.