As I indicated here, I apologize for my recent absence here. I appreciate the kind words and notes of encouragement some of you sent my way. It meant a lot to us.
As it's been a while since I've commented on the world's most popular sport, just some brief notes and observations here.
When Mércia and I were in Portugal, we had the pleasure of being in Leiria when FC Porto and Sporting Braga played the Europa League  final and in Porto itself when FC Porto played Vitória Guimarães for the Portuguese Cup. Porto won both championships, giving them a total of four for the prior eleven months (the Portuguese Primeira Liga and the Portuguese Supercup are the other two) and their impossibly young coach, André Villas-Boas, age 33 with no history as a professional player, the hottest coaching commodity in years. So hot, in fact, Chelsea snatched him up, hoping he'll have José Mourinho's genius without his ego. I think they won't be disappointed.
Unfortunately, I was not able to squeeze in a game in this trip, but did get to go to Porto's stadium, Estadio do Dragão: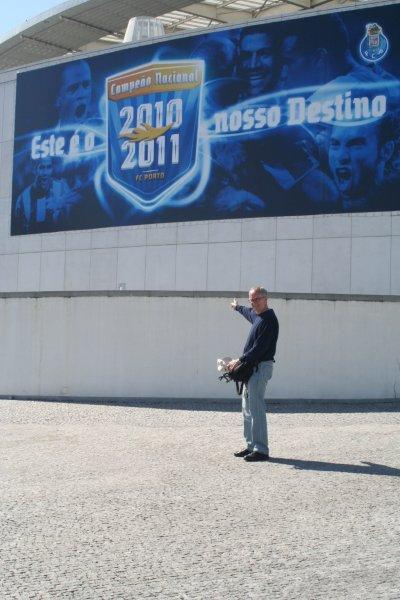 The sign says "National Championship 2010-2011: This is our Destiny." It certainly was – and then some.
On the CONCACAF Gold Cup, I'll be brief. To Bob Bradley: Jonathan Bornstein is not the answer; he is the question. No is the answer. Get some speed in your back four. Please.
I didn't cover the Women's World Cup thus far, in large part because I don't really get to see the players play much on the club level if at all. I had never heard of Louisa Necib, the French attacking midfielder, who is often referred to as the female Zinedine Zidane as much for her skills as for being , like Zidane, the child of Algerian immigrants.
That being said, I have enjoyed watching the games I've seen, especially the Japan v Germany and USA v Brazil quarterfinals. There is a sort of poetic justice that Abby Wambach's game tying goal was scored in extra time that was the result of Erika's disgraceful delaying tactics.
To say Brazil has played an uninspired Copa América is putting it mildly. Argentina had also been playing in a rather lackluster fashion until their 3-0 win against Costa Rica yesterday. My own thoughts are that Colombia has been having a pretty good run. I wouldn't object to seeing them win the tournament
Finally, the Argentinean team, River Plate, a team so prominent in Buenos Aires that whenever I met someone from that city, I routinely ask them "Boca [for Boca Juniors] o River" and usually count on them claiming one of the two, has been relegated to the second division for the first time in its 110 year history. If you're baseball fan, imagine the Yankees beng sent down to Triple A and you get the idea. This has been a bit of a scandal to put it mildly, but  this reaction sums it up best as this man was watching the game which resulted in their relegation. Hat tip to my buddy and erstwhile Porteño, Brian Greene.