There is a reason Cantor saw this:
President Barack Obama "abruptly" walked out of today's White House meeting with legislative leaders on the federal deficit, House Majority Leader Eric Cantor told reporters.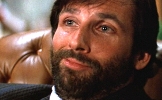 And everyone else saw this:
Democrats offered a different characterization of the meeting and that exchange, though House Minority Whip Steny Hoyer (D-Md.) told The Hill that the "gravity of the challenge" that confronts negotiators "was weighing certainly on the president."

In a brief interview, Pelosi said she had never seen a president more gracious than Obama, who she described as trying to end a meeting he had hosted.

"He stayed for two and a half hours and listened to what members had to say. It was his meeting and the meeting had come to an end," she said.

"The president could not have been more gracious. I have never seen a president spend so much time with the leadership of Congress day in and day out, respectful of their concerns," Pelosi added.

House and Senate Democrats have ripped Cantor for days, and a House Democratic leadership aide described the majority leader's account of Wednesday's meeting as "Cantor's Gingrich back-of-the-plane moment" – referencing a moment in 1995 when then Speaker Newt Gingrich (R-Ga.) complained about being seated near the back of Air Force One and was quickly depicted in the media as a cry-baby.

"Obama was concluding the meeting giving the closing remarks and talking about meeting tomorrow, Cantor interrupted him and raised for the third time doing a short-term, and Obama shut him down," the aide said. "Cantor was playing the role he's been playing throughout this whole thing – being not productive."

The reason the "YOU LIE" Republicans see things differently and simply can not control themselves around this President? Uppity.