Got some pictures form the party. Here are the food tables: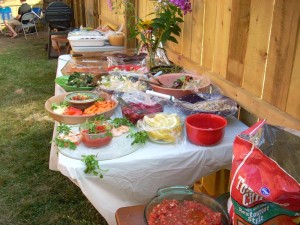 Here are some of the guests- that is the birthday boy in the Hawaiian shirt, and the woman seated in the sleeveless green blouse is my neighbor who had that horrible tumor surgery we talked about at length. She's fully recovered and knocking back a Yuengling. Medicare made that possible: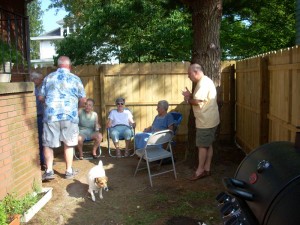 Here are some more of the guests in the back yard. That entire area that they are sitting in was completely unusable last year, because it was covered with pine tree branches. I had the trees trimmed all the way up, and now it is my favorite space in the backyard, because the ground is soft from decades of pine needles (I've hauled out about 35 bags of needles) and it is nice and shady and cool):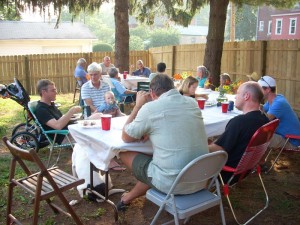 And finally, the desserts. Rather than a big cake, we went with lots of choices. We had a cake professionally made at the Bethel Park bakeries, Harald made a delicious plum and apple cake and we mixed some heavy whipping cream with confectioners sugar and Couintreau, and we had lemon meringue pie, a ridiculous cheesecake, and ice cream: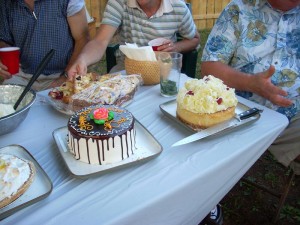 If you are wondering which one is me, I am the one in the kitchen sweating. I just got the back yard put back together.