Writing about the follies of his lordship, the Third Viscount of Self-Delusion, brought to mind the terrible pun me old mum* used to relish whenever excessive aristocratic pretension loomed.
It runs like this:
Q:  If a centipede a pint…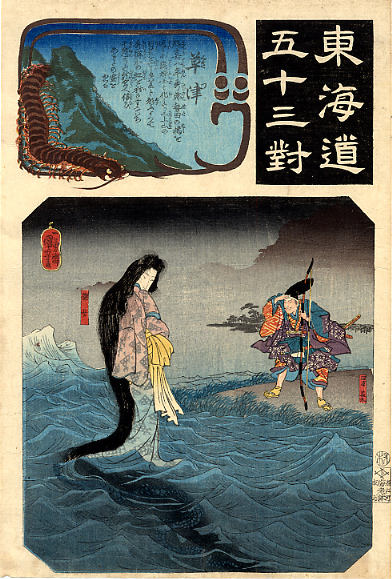 …And a millipede a quart,

How much has the philanthropist?

A:  Quite a lot, for he's a very liberal peer.
That's what I got.  You?
Oh, and BTW:  this is not punishment; it's an open thread.
*You may infer from the adjective that me mum is also the late Mrs. Levenson. Woe be the miscreant that misdirected the epithet "old" so carelessly whist she was capable of wielding her tongue and wit…
Image:  Kuniyoshi Utagawa, The Dragon Princess, 1845.
(In this scene, the Dragon Princess rises from the water to bid Hidesato, standing on the shore of lake Biwa with his bow, to rid the lake of the giant centipede Seta.)