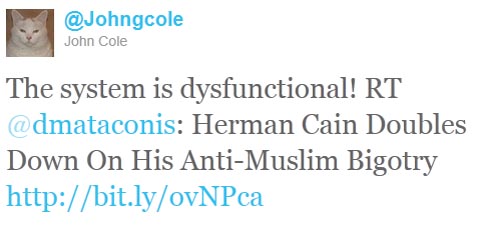 ***
Part of the thing that is so vexing to me is why the alleged "sane conservatives" are still with the Republican party, and I think it has to do with a number of things- not being willing or able to say things have changed and that they are wrong, unwillingness to leave the tribe, in some case, I'm sure they are privately alright with what the crazies are doing they just don't want to get the blame so they distance themselves ("I'm a Republican, but not one of THOSE Republicans"), but finally, I think some of it has to do with the notion that we have a two party system and that there need to be two functional parties. The problem is, right now we have the Democrats, we have the Republicans, and then we have the lunatics: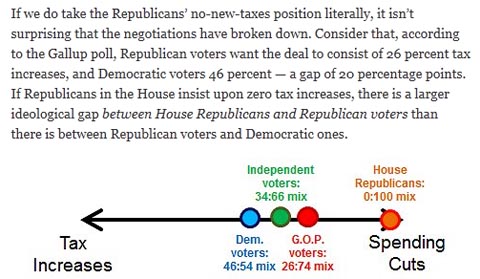 That's pretty frightening- the lunatics aren't just out of touch with the country, they are out of touch with allegedly what their party members want.
When I look at that, were I a mythical dodo bird "sane Republican," I'd start to rethink why I am in the GOP. But they won't, they'll just stay in the party and find new ways to blame Obama for their own faults or throw up their hands and claim the system is broken and dysfunctional. The system is fine- one party is just insane.
It's a lot like the belief that children are best off with a mother and a father, which, under optimal circumstances, I would agree. We generally are better off with two vibrant parties. But when dad is a needle junky who spends the rent money on smack, shits on the couches and rapes the kids, no one would flinch if mom grabbed the kids and ran. But when the teatards do it, the "sane Republicans" and libertarians sit around and make excuses- "yeah, but Al Sharpton and Dennis Kucinich and blah blah blah." It's crazy.