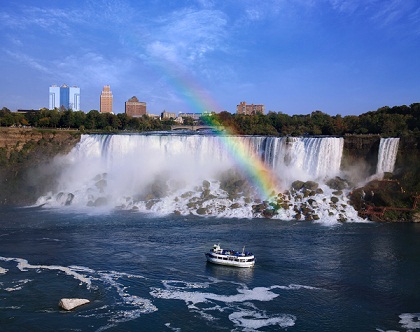 From the website of the Niagara Tourism and Convention Corporation:
In an effort to partner tourism related opportunities with the passage of the Marriage Equality Act in New York State, the Niagara Tourism and Convention Corp. (NTCC), unveiled plans Friday to hold a group wedding ceremony on July 25 in Niagara Falls, N.Y., as well as a new 'Rainbow Romance' package on the agency's Niagara-USA.com reservation system.

The event, which is aimed at highlighting the passage of the marriage equality act, is expected to be one of the first official LGBT group wedding ceremonies in New York State. This wedding ceremony, being held at Niagara Falls State Park, will reinvent Niagara USA as a premier marriage and honeymoon destination, as well as translate to a tremendous economic impact for the regions tourism industry.

"According to Empire State Development, New York State would garner upwards of $400 million in economic benefits over a three-year period due to the passage of the marriage equality act," said NTCC President and CEO John Percy. "Niagara Falls has long been considered a premier wedding and honeymoon destination throughout the world. Now, with the influx of a new demographic of romance tourists, Niagara USA will once again be viewed as the Honeymoon Capital, for all."

The City of Niagara Falls clerk's office has agreed to open its doors on Sunday July 24, which will allow couples to obtain their marriage license 24-hours in advance of the planned ceremony. The office hours will be set in the coming days.

The NTCC has coordinated with different partners in Niagara USA, to plan an event which will hosted on Goat island in Niagara Falls State Park free of charge to LGBT couples, on July 25 at 10 a.m.

The following is a breakdown of partners who have signed on to assist in the "First Official" group wedding ceremony in Niagara Falls.

Wedding Officiates will include: Pastor Marna Pritchard (First Congregational United Church of Christ), Rev. Terry Klime (Unitarian Universalist Church of Niagara), Hon. Kristen M. Grandinetti (City of Niagara Falls), Sally Fedell (The Falls Wedding Chapel)

Following the event there will be a cake and champagne toast at Niagara Falls State Park.

Harris & Lever Florists to provide flowers.

We are working with members of the Illumination Board to have the Falls be illuminated "Rainbow" colors the evening of July 24 and July 25.

Niagara Falls Mayor Paul Dyster said "This event, which will highlight Niagara Falls on an international level as a premier wedding and honeymoon destination, will serve as a tremendous economic shot in the arm for not only the area's hotels and attractions, but for the florists, bakeries and restaurants throughout the city." Dyster said. "Those who come here will see the efforts made by this administration in reinventing our downtown tourist district and be welcomed into a city that will once again reclaim its title as the honeymoon capital of the world."

In addition, Niagara-USA.com will feature a 'Rainbow Romance' package which can be booked on its online Reservation System, providing couples with a romantic getaway that including hotel, champagne, breakfast and the option of visiting Niagara USA's most iconic and romantic attractions such as the Niagara Wine Trail and Maid of the Mist Boat Tour.

The NTCC is now in the process of reaching out to different LGBT organizations across New York State in hopes of attracting couples to Niagara USA for this event.
Welcome to the new normal, Maggie.
H/t: Joe my God