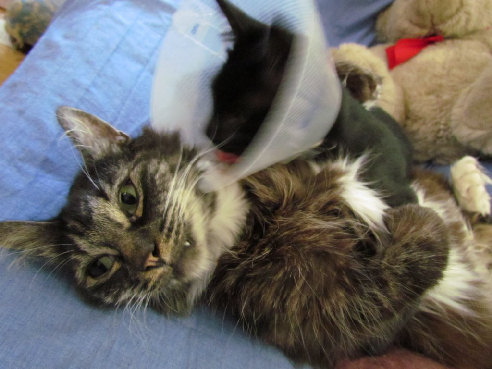 Remember the "little black creature with big ears and golden eyes" that was looking for a home recently? Here's an update from commentor Ruemara on Kage-Basho:
There's the little pair of monkeys. They hit it off right away, no hissing, no nothing. Takkun had been lonely when our advanced senior cat passed earlier this year, but even before, Smudge just wasn't the playful kitten type. Now Takkun has a playmate and we have a new alternate kitten in case the new advanced senior cat cannot fulfill his duties. Kage has been wonderfully sweet, a purr monster, so in love he licks his cone. I can't believe he wasn't snapped up, so thank you, SacreBlue.
__
And now that I am flanked by kittens to the left and right as I play WoW, I have vibrating armrests.
__
PS: Kage Basho=Shadow Patch. It's shorter than Takkun's name: Otajamakushi Taifu or Tak-kun.