The Norwegian media believes that this 1500 page manifesto and video were posted by the fundamentalist Christian nutcase mass murderer yesterday before he set off on his self-appointed tasks.
I'll freely admit that I've had a couple of martinis but I'll be goddamned if I can make heads or tails of this pile of gibberish. Apparently, Multiculturalist Marxist Political Correctness is suffocating Europe, which will soon be "EUSSR", so we need to blow the place up and murder kids to save it. The video features images like this: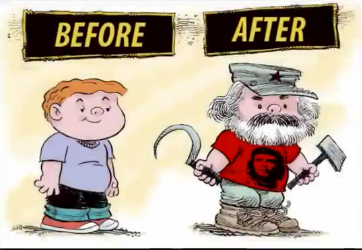 As is obvious from this illustration, multiculturalism can transform Billy Jeffy from the Family Circus into Che Guevara. It would be laughable if it hadn't spawned the sick shit this useless fucker perpetrated yesterday.