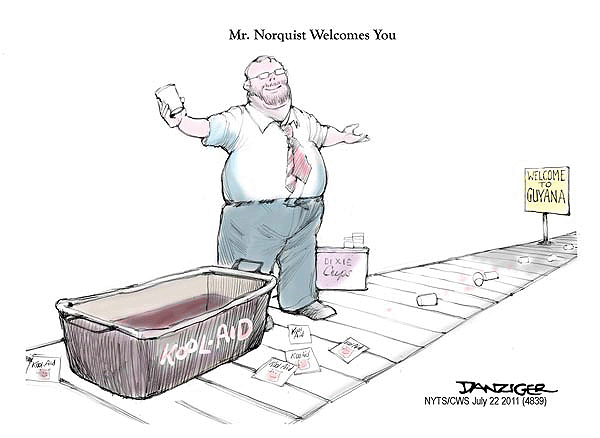 (Jeff Danziger's website)
__
According to the NYTimes, "Boehner & Reid Prepare Rival Debt Plans":
… Mr. Reid, the Senate's top Democrat, was trying on Sunday to cobble together a plan to raise the government's debt limit by $2.4 trillion through the 2012 elections, with spending cuts of about $2.7 trillion that would not touch any of the entitlement programs that are dear to Democrats or raise taxes, which is anathema to Republicans…
__
At the White House on Sunday evening, Mr. Obama spent about an hour meeting in the Oval Office to try to hash out details of the Democratic proposal with Mr. Reid and the House Democratic leader, Nancy Pelosi. The two emerged from the meeting with nothing to say to the throngs of reporters who had been encamped there for the third consecutive weekend, awaiting an agreement on the debt ceiling.
__
But administration and Congressional officials said that during the meeting, Mr. Obama and the Democratic leaders had resolved to hold firm against any short-term agreement that did not raise the debt ceiling beyond next year's presidential elections. […] __
The contours of Mr. Boehner's backup plan were not entirely clear, but it seemed likely to take the form of a two-step process, with about $1 trillion in cuts, an amount the Republicans said was sufficient to clear the way for a debt limit increase through year's end. That would be followed by future cuts guided by a new legislative commission that would consider a broader range of trims, program overhauls and revenue increases…
__
One freshman lawmaker on the call described Mr. Boehner as sounding weary and said many Republicans were focused on some version of a balanced budget amendment, which was already passed by the House as part of broader legislation but then rejected by the Senate.
Shorter Orange John: I got a caucus full of nothin', and the chomp marks all over my ankles to prove it.
***********
Meanwhile, the Washington Post, in its capacity as the broadsheet for a company town whose product is politics, has had a user poll up since late Friday asking Which leader is most at fault for the latest breakdown in debt talks?. Consensus of 46,373 voters allocates Obama 15%, Boehner/Cantor/McConnell 82%, Reid/Pelosi/Other 2%. In other words, the Repubs haven't even managed to hold onto the stalwarts of the Crazification Factor!