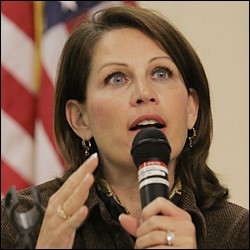 They are insane. This isn't some "both sides do it" crap. The Republicans are out of their gourds and think they are revolutionaries:
BOEHNER: Well, first they want more. And my goodness, I want more too. And secondly, a lot of them believe that if we get passed August the second and we have enough chaos, we could force the Senate and the White House to accept a balanced budget amendment. I'm not sure that that — I don't think that that strategy works. Because I think the closer we get to August the second, frankly, the less leverage we have vis a vis our colleagues in the Senate and the White House.
They think they can burn the entire system down and out of the ashes will form Conservatopia. They really do think of themselves as the vanguard of the Galtitariat. The folks sitting on the sideline keeping their powder dry, or the folks saying "They're just negotiating" simply do not get it. We're dealing with maniacs and true believers. When you look in Michelle Bachmann's eyes, you're not just seeing crazy, you're seeing the glassy eyed stare of a modern day Manson family. Economic suicide bombers is a better analogy than most people realize.