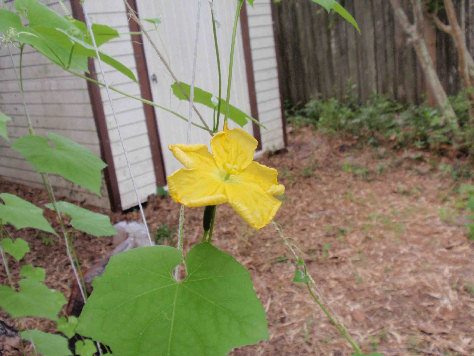 From commentor Michele:
Thought I'd send you pics of one of the loofah plants I'm growing this season. As you can see, it has a big yellow blossom, and behind it is what will most likely be the loofah plant. If it grows into a more recognizable loofah plant I'll send an updated photo. I live in Florida where the early pioneers grew loofah as food and as washing sponges.
From commentor Dianne:
Here are some of mine. It's a jungle. I piled horse manure on the plot all winter, then tilled it in. Both the garden and I went crazy this year. I overplanted, and nearly every plant is producing a bumper crop. I've got watermelon, cantaloupe, lemon cucumbers, regular cukes, tomatoes, more tomatoes, and a ton of peppers. It's interspersed with zinnias, marigolds and sunflowers. I love it!
************
Thanks to everyone who sent pics (Jo6pak, Linda F, Raven/Stuckinred,Scout211 — I'm hoarding your contributions for future posts!).
Here in New England, we're getting a daily trickle of ripe cherry tomatoes, but the Big Guys are still swelling fat & green. On the other hand, my basil plants are already trying to flower, which usually doesn't happen before mid-August. Weird times…
Bonus pics from commentor Mustang Bobby: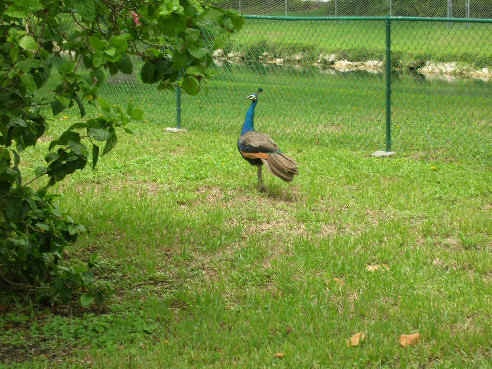 I don't have much of a garden, but I do get some interesting visitors, such as peacocks. Peacocks are like elephants; you like to look at them, but you wouldn't want to own one. They are loud, mean, and pompous – "Hey, I'm walkin' here!" – and they leave huge calling cards. But that's part of the life here in the 'burbs of Miami.
__
I also have a lot of hibiscus bushes that always seem to be in bloom.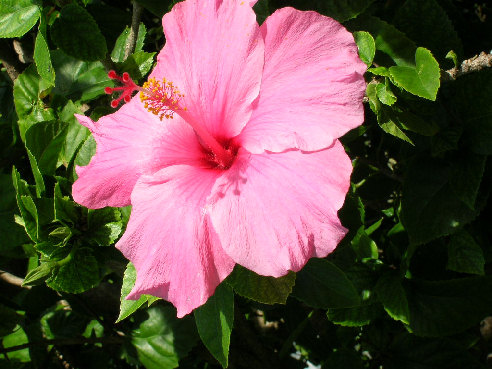 So… How are things in your gardens, this week?