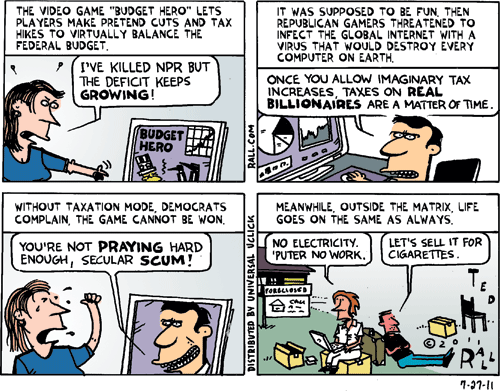 (Ted Rall's website)
Tom Junod posted this in Esquire's Political Blog two weeks ago, but I don't think I've seen a better analogy for the GOPers' intransigence since then:
Ah, but that's vision for you: Some men see the economic peril that is and say "Why?"; others dream of the economic peril that never was and say "Why not?" Indeed, after spending an entire day talking to Democrats and Republicans about the debt ceiling, I'd become convinced that they were never going to come to any kind of agreement because they were in fact talking about different things: They both agreed that the patient was sick, but the Democrats diagnosed diabetes, and the Republicans diagnosed cancer. The Democrats were saying that as long as the patient stayed on insulin — i.e., as long as the patient could issue new debt — he wouldn't lose his toes, go blind, and succumb to impotence; the Republicans were saying that if they didn't get in there and start cutting right away, he would die. The Democrats were "conservative," saying that if the patient started eating better and exercising a little bit he'd eventually come around; the Republicans were intent on using the patient's illness as an occasion for a little experimentation, an opportunity to prove that if they preemptively excised his toes, eyes, and penis he'd get along just fine, and might even be motivated to get off his ass and get a freaking job….
***********
Apart from situations over which we may have even less control than we do over the weather…. What's on the schedule today?