I'm off to bed, but I thought I would leave you all with a picture of the new and improved Rosie. All I have to say is "who is ready for bed time," and she runs to her crate. She gets her treat, I go to bed, and no one bites me in my sleep. She's a different dog since I crate trained her, and we both have our own separate peace.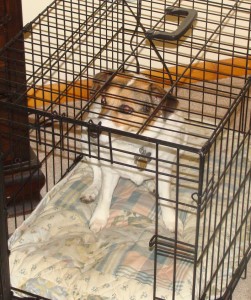 It took her a year, but I think I am starting to be trained and am no longer a bad owner. As such, she is a better dog and I like having her around. Funny, that.
And for the love of fucking christ, can you other front pagers stop making stupid fucking categories you only use once?