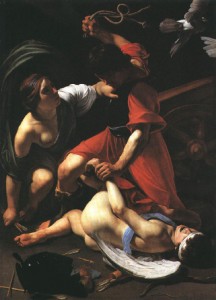 And for the love of fucking christ, can you other front pagers stop making stupid fucking categories you only use once?
I don't know what you're so grumpy about, Mr Cole.
Isn't the world a better place for the #notintendedtobeafactualstatement tag category?
And "Sweet Fancy Moses!" makes me laugh every time I see it.
But then, I still don't have my name in the Contact list, so what do I know?
btw – Open Thread.
Note: No new tags categories were created for the purposes of this post.
[Image:
Cupid Chastised
– Bartolomeo Manfredi (1582-1622)]