The price tag for Teahadism on the debt (and John Boehner's week of kabuki in the House)?
$1.7 billion in extra interest $17 million to be paid on this week's auctioned T-bills, at rates inflated over the prior weeks due to the feral craziness of our friends on the right.
Update:  Ooops.  The CNN article at the link has now been corrected to reveal a number much more plausible, on moment's reflection.  $17 million is still real money — three years worth of a quality middle reliever or so — and I'd much rather see it spent on something useful, like, for instance an 17% or so boost in the FAA's research budget on aviation safety. But it's a far cry from the kind of sum required to purchase both the New England Patriots and Manchester United.  My colleague Alan Lightman emphasizes over and over again the need to put any number one encounters to the smell test.  I did not on this one.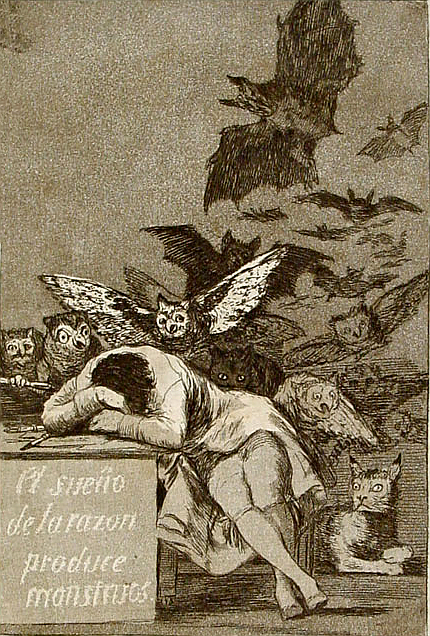 You can pick the program of choice, but to take an federal expenditure I particularly value, that sum would amount to a 25 .25% increase in NSF funding over 2010 levels, now forever forgone.
Thanks, clowns.
Image:  Francisco de Goya, The dream sleep of reason produces monsters.  1799 (Per Becca's suggestion here.)