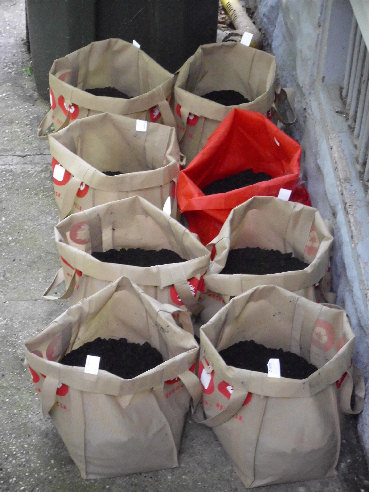 From commentor Linda Featheringill:
This is my fall garden. Those containers are grocery store reusable bags. Soil is in the bag about 6 inches deep and each bag holds about one squre foot, if you're into that sort of thing.
__
The plan is to grow 8 brussels sprouts, 15 rutabagas, and a bag full of leeks [maybe about 15 or so]. All of these have 90-some-odd maturation periods and I'm aiming for a frost date of last week in October. About a month from now, I should plant kale, broccoli raab, spinach, and beets [50 to 60 day maturation periods].
__
It has been quite hot for a week and it looks like there's more heat ahead, so I placed these bags on the east side of the house where they can enjoy morning sun and afternoon shade. After it cools off a bit, I can pick them up by their handles and move them over to the west side of the house.
__
I've never been around a fall garden before. We'll see how it does.
***********
From commentor Scout211:
Here is my garden about a month ago. All the plants are huge right now and producing bushels of good stuff.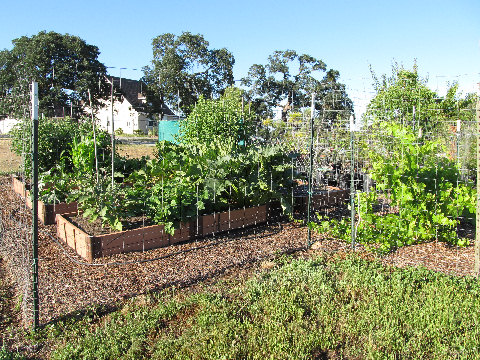 ***********
Aaaaand from commentor Jo6pac:
These are from 4 weeks ago. I've already harvested one 5 gallon bucket of tomatoes (turn them into sauce) and a melon. The bells are a little slow this year but hope to stuff 100 or so.
***********
"Only two things that money can't buy — that's true love and home-grown tomatoes." Somebody on Cole's last (BLT) thread misquoted the highlighted phrase as "free", which all us gardeners know isn't true… it's the memory of all your planning & fretting & (literally) sweat equity that adds the extra-special flavor.
__
(Works the same way in relationships, in my experience; Monday marked the 18th anniversary for me and the Spousal Unit, but only because we spent 15 years 'experimenting' before we took out the paperwork.)
__
How are things looking in your gardens this week?