This seems like as good a time as any to drop off the grid for a bit.  It's not as if our country is collapsing into the scrap heap of former empires or anything.
In an hour or two I'll be heading up to a secure undisclosed location in which no landline exists, cell phone towers don't reach — and neither does town electricity — which kind of renders the internet nonexistant.
Paradise in other words; paradise without a blog!
I'm pretty ready not to think about politics or our economic follies or just about anything other than when the sun crosses the yardarm or anything after about 1750 or so.  So this works.
But just to show some connection to the world from which  I'm temporarily checking out, here's a cartoon of which I was reminded by DougJ's latest BoBo snark (think exchange of genetic information):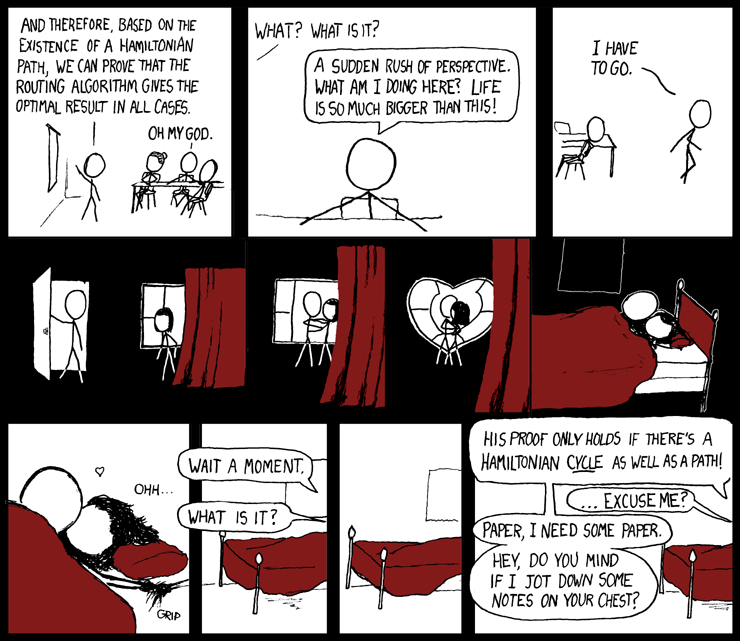 (Via the invaluable xkcd.)
And to say farewell, temporarily, let me offer a song that captures what the last week or so has sounded like inside my brain:
<div align="center"><iframe width="560″ height="349″ src="http://www.youtube.com/embed/RaQaa125EhI" frameborder="0″ allowfullscreen></iframe></div>
Cheers all.  See you in a fortnight.
(Open thread, this, if you like).