Yesterday Matt Yglesias flagged a survey showing that people who spend longer in school tend to spend more on alcohol.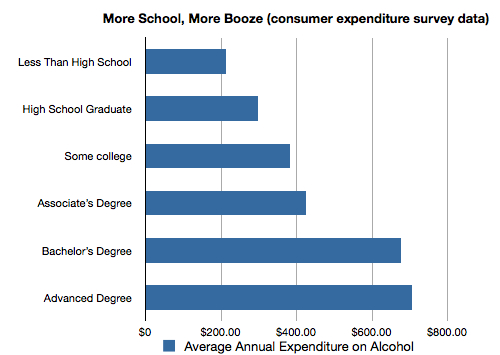 Kevin Drum and James Joyner both pointed out that educated people drink more expensive alcohol (e.g., mixers or craft beer rather than schlitz).
When I saw Matt's chart, my first reaction was that the amount that people spend on alcohol probably has a lot to do with the amount of money they make. High school graduates would probably not turn up their nose at Laphroaig, but they also want to drink more often than once a month. With that in mind I combined the chart with comparable data from a 2008 Department of Commerce survey on income by education level*.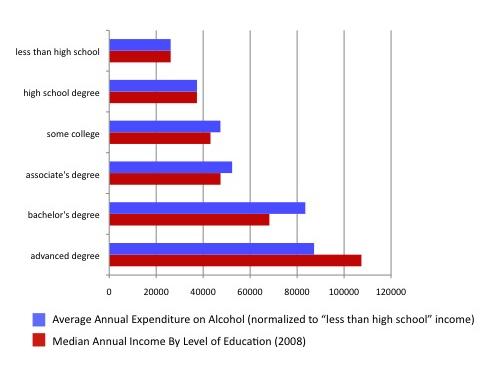 From this I can conclude that graduating high school alone does not change drinking habits much. You earn a little more, you spend a little more on booze. A few college credits also has little effect. The most surprising result is that although people with a college degree make significantly more money, they spend significantly more on booze and then some. If you stay in school for another degree the effect flips; you make quite a bit more still but the amount that you spend on drinking changes hardly at all.
The last two data points make sense to me. The burden of doing well enough in college to meet my goals (in my case, getting into grad school) still left plenty of time to work on pickup lines, learn to mountain bike and climb and so on, and especially to refine the hell out of my drinking habits. If I hit the job market at that time, I am sure that most jobs that I could get in 1999 would have left me plenty of time to do it.
Grad school hardly killed my interest in booze, in fact just the reverse. Most Fridays the students in my cohort would hit a dive bar for margaritas and epic, cathartic grousing sessions about our advisors, our research, our teaching and any other indignities the universe thought up that week. As often as not I needed beer like I never did in college. There just wasn't time.
Needless to say there are a million reasons to qualify a direct income-to-booze-money comparison. But hey, it agrees with my experience so it's good enough for me.
(*) To make comparisons easier I multiplied the amount spent per year by a constant so that income and booze expenditures are equal for high school dropouts. When categories did not precisely overlap it was usually because the DoC data contained extra sub-categories (e.g., Master's versus PhD), so when necessary I averaged those together along with the separate (and still disturbing) numbers for male and female.