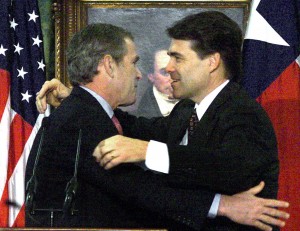 If that's not a portrait of James Buchanan in the background, it should be.
Well, it's official — Rick "Gov. Goodhair" Perry wants to bring his small-government, large-ego campaign to everyone's back yard:
In Perry and the state he has led for more than a decade, Republican voters are being offered the Platonic ideal of the GOP model for economic growth — low taxes, scant regulation and limited public services.
__
Texas has no income tax, ranks 46th overall for the taxes it collects per capita and has the strongest job growth in the country. The state has accounted for between 30 percent and half of the net new jobs in the country in the past two years, depending on who is counting.
__
While Obama points to his universal health care law as a historic achievement, Texas is often cited as an example of the need for health-care reform: A quarter of Texans lack coverage, the highest share in the country.
__
While Obama seeks to increase federal funding for education, Texas ranks 47th in the country for the level of state spending on schools. And while the Obama administration clamps down on pollution, Texas ranks highest in the country for the levels of toxic chemicals released into the water and carcinogens released into the air, according to Scorecard, an organization that tracks nationwide pollution data…
Alex Pareene, at Salon, thinks "If Rick Perry is seriously a presidential front-runner there's something wrong with all of us":
… Perry's flirtations with neo-Confederate organizations and symbols — ably documented by Justin Elliott — are so extraordinarily reprehensible that it should immediately and permanently disqualify him from being taken seriously for national office. The Confederacy was not a bunch of generally well-meaning dudes who went a little too far, it was a gang of racist traitors who launched a bloody war to defend a monstrously unjust institution. Having neo-Confederate sympathies in America should be equivalent to supporting the reconstituted Fascist party in Italy, or worse. It should not be considered something that 50 percent of the nation should be willing to look past, or even embrace.
__
And if that embracing happens it'll be in part because of a press that won't explicitly describe a disgusting sentimental attachment to a racist, brutal regime of oppression as anything other than an acceptable ploy to pick up Southern white support.
__
This, of course, is not even mentioning the time Rick Perry fucking killed an innocent person. Which, talk about disqualifying! This is the new front-runner, the man who doesn't care that he killed an innocent person. Whee!
And here's Timothy Egan, in the NYTimes, on "Rick Perry's Unanswered Prayers":
A few months ago, with Texas aflame from more than 8,000 wildfires brought on by extreme drought, a man who hopes to be the next president took pen in hand and went to work:

"Now, therefore, I, Rick Perry, Governor of Texas, under the authority vested in me by the Constitution and Statutes of the State of Texas, do hereby proclaim the three-day period from Friday, April 22, 2011, to Sunday, April 24, 2011, as Days of Prayer for Rain in the State of Texas."

Then the governor prayed, publicly and often. Alas, a rainless spring was followed by a rainless summer. July was the hottest month in recorded Texas history. Day after pitiless day, from Amarillo to Laredo, from Toadsuck to Twitty, folks were greeted by a hot, white bowl overhead, triple-digit temperatures, and a slow death on the land.
__
In the four months since Perry's request for divine intervention, his state has taken a dramatic turn for the worse. Nearly all of Texas is now in "extreme or exceptional" drought, as classified by federal meteorologists, the worst in Texas history. […] __
That was a warm-up of sorts for his prayer-fest, 30,000 evangelicals in Houston's Reliant Stadium on Saturday. From this gathering came a very specific prayer for economic recovery. On the following Monday, the first day God could do anything about it, Wall Street suffered its worst one-day collapse since the 2008 crisis. The Dow sunk by 635 points.
__
Prayer can be meditative, healing, and humbling. It can also be magical thinking. Given how Perry has said he would govern by outsourcing to the supernatural, it's worth asking if God is ignoring him.
Unfortunately, we can't ignore him, lest that persistent unpleasant buzzing in our collective ears ends up as a deadly infection in the bowels of our national government…