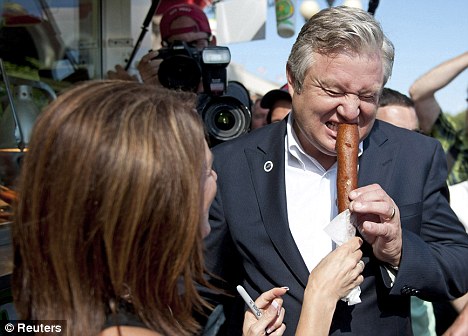 Just because it gives Joe Scar and Stu Rothenberg an aura for their next migraines doesn't mean that Michele Bachmann wasn't the first clown out of the car yesterday, and that she'll probably be the recipient of a hell of a lot of money in the next few months. Bachmann will be the official front-runner for a very long time: the next contest is Iowa next February.
With that in mind, and since Republicans think it's a scandal that Michelle Obama accompanies her husband on out-of-country trips and goes barefoot in the White House, incidents like the following (via) need a little more attention:
Minnesota Rep. Michele Bachmann, a Republican presidential candidate, was 30 minutes late to speak at her scheduled Iowa State Fair soapbox event and spoke for three of the 20 allotted minutes.

She said she was going to shake hands but left the makeshift stage quickly when 17-year-old civil rights advocate Gabe Aderhold of Edina, Minn., loudly questioned her husband Marcus about his counseling techniques to "pray the gay away."
I hope incidents like this start to happen every time Bachmann is in front of the general public. And if they do, perhaps serious candidates Mitt Romney and Rick Perry will be asked about their unpopular anti-homosexual agenda.
Update: Confirming the irrelevance of Ames, TPaw just pulled the ripcord.