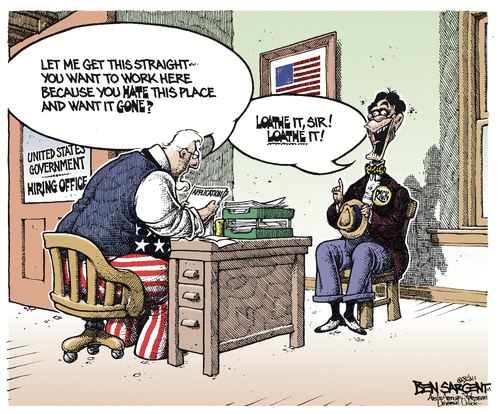 (Ben Sargent via GoComics.com)
Matt Yglesias at Think Progess discusses what he considers the "Ten Weirdest Ideas In Rick Perry's 'Fed Up'":
Rick Perry's November 2010 book Fed Up!: Our Fight to Save America from Washington is not a typical "campaign book" from a political candidate. For starters, its forward is written by former House Speaker Newt Gingrich, nominally one of Perry's rivals for the nomination. For another thing, its overall tone much more closely resembles that of a B-list conservative radio host looking to stir up controversy and sell books than of a cautious politician trying out poll-tested lines. Consequently, while the book is by no means a good one, it's certainly a lot more interesting than most comparable works. I read it over the weekend, and thus am proud to produce the following list of the Top Ten Weirdest Ideas…
__
8. Medicare Is Too Expensive But Must Never Be Cut: Both establishing Medicare in 1965 and expanding it to include prescription drugs in 2003 are examples of "an irresponsible culture of spending in Washington" (page 63), but establishing "'councils of experts' and panels of various sorts" to assess the cost effectiveness of different Medicare-eligible treatments is a "frightening" "scheme" that "undermines freedom" and can be fairly labeled "death panels" (page 81)…
__
5. Almost Everything Is Unconstitutional: Regrets the existence of jurisprudence construing the Commerce Clause to permit "federal laws regulating the environment, regulating guns, protecting civil rights, establishing the massive programs and Medicare and Medicaid, creating national minimum wage laws, [and] establishing national labor laws." Perry makes a partial exception for laws barring racial discrimination which he says fulfill "the intent behind the passage of the Reconstruction Era amendments." (page 51)…
It's frig-magnet sloganeering like this and the Palenty encomium that I posted earlier which made me suspect that Perry, "a man largely unencumbered by principles" (as a former associate phrased it), was doing the Will-He-or-Won't-He candidate dance as a means of attracting media attention to increase his marketability on the Wingnut Welfare circuit. Quite possibly at/with the "encouragement" of Republican Serious-Money backers — the people that funded the original Taxed Enough Already agitators. The Koch Bros'n'Cronies seem to be trying to choke off the genuine nutroot Zealot Candidate (Bachmann, who may have been intended as the Palin-blocker) in time to herd the rubes into the "safe" (Romney) chute before the whole Repub-brand starts to whiff too strongly of a fly-by-night carnival. But even the most hard-headed grifter is prone to end up being seduced by his own grift… all the sweet, sweet fluffing Perry's gotten from the novelty-mad Media Village Idiots over the past week must make it hard for him to resist believing he could run a long con all the way to Tampa, if not the Oval Office.
Which means I once again am driven to quote Doghouse Riley for the perfect encapsulation:
… You've just got to love, or puke at the mention of, how Rick Perry became the Instantly Credible Candidate when "credible" is code for–no, hell, it's not even code, it's synonymous with–"rich donor list". I mean, there's nothing else aside from this constant artificial excitement over what bright, shiny, and fur-wrapped object has grabbed the Religious Teabagger focus du jour. The Texas Miracle–interesting, by the way; a year ago, when the now in decline Establishment Republicans for Mitch–and Mitch himself, I think it goes without saying–touted Indiana as having the best employment record in the Abysmal Obama Economy. Daniels got away with it. Perry won't.
__
And don't get me wrong: Rick Perry is religious scam artist, a public liar, and a neo-confederate fuck melon. And he could be Your Next President. None of those things is mutually exclusive of the other. Hell, in the last three decades they're positively correlated. Rick Perry sounds like he stands for something. It may not matter anymore just What that happens to be. Democrats quit doing that full-time in 1981, after spending the previous decade apologizing for George McGovern and ridiculing Jimmy Carter. Sorry, but the possibility of President Rick Perry exists today only because Democrats wouldn't stand up for themselves after losing to Richard Fucking Milhous Nixon.
__
I hate to keep bringing it up, but that's that. Democrats decided in 1972 that Liberalism had run its course; in 1974 Democratic Senators decided it was too costly to get the money out of politics. 2006 was just a re-capitulation; Democrats placed in a two-house majority because of an extremely unpopular war couldn't find the wherewithal to defund it, let alone bring anyone home or hold the Worst President in History accountable. Democrats are not going to take their rightful place as the majority party in the US until they chop the Republicans off at the knees. That's a requirement. Now, of course, the GOP has gone so far Right it's in danger of falling into a Horowitz Singularity and emerging as weirdly religious Trotskyites, and the Dems will figure once again that sooner or later they'll return to power on the backs of what morons their opponents are.