Obama is about to go on vacation, so you know what that means! Endless wankery from Republicans about Obama going on vacation, cost analysis of Secret service details, and the works. The RNC is ahead of the game with vacation postcards you can send Obama: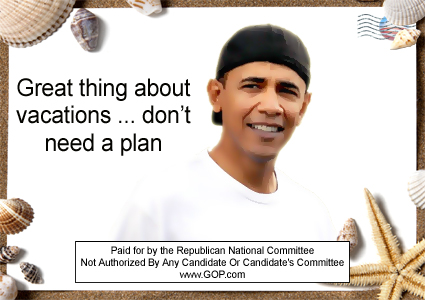 Meanwhile, the facts tell a different story:
There has been criticism of the president's vacation at this time. But how does the number of vacation days the president has spent compare to his predecessors? CBS Radio's Mark Knoller has kept track of presidential vacations for years and supplied the data.

So far, President Obama has taken 61 vacation days after 31 months in office. At this point in their presidencies, George W. Bush had spent 180 days at his ranch where his staff often joined him for meetings. And Ronald Reagan had taken 112 vacation days at his ranch.

Among recent presidents, Bill Clinton took the least time off — 28 days.

To be fair, a presidential vacation away from the White House is not the same as a vacation for the average person. The president is still in contact with his advisers and on call for any emergency.
Looks like Rain Main at CBS came through for a change.
I hate Republicans. Also, too.