My brother's dog Boghan is over for a visit, so the chaos factor has hit 11 here. I have no idea where Tunch is, and this is a major concern, because Tunch cut Boghan the last time, lacerating his eye to the point that Boghan needed surgery. TUNCH RAWR!
Currently making some loaves of buckwheat bread with a little bit of almond flour to mix things up. I give about 90% of what I bake away, but I just really like doing it. It is fun experimenting, and for some reason the entire process just relaxes me more than cooking does (although I do love cooking!). There's just something inherently soothing about baking, just like gardening. I guess maybe I like making things and building things after a youth of destroying shit. Plus, no one seems to bake any more, so all my friends just love the bread.
*** Update ***
An action shot of Boghan: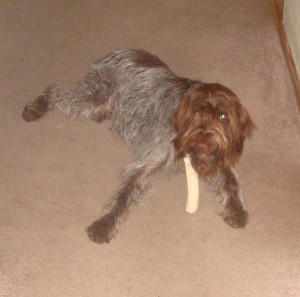 Such a pretty dog.