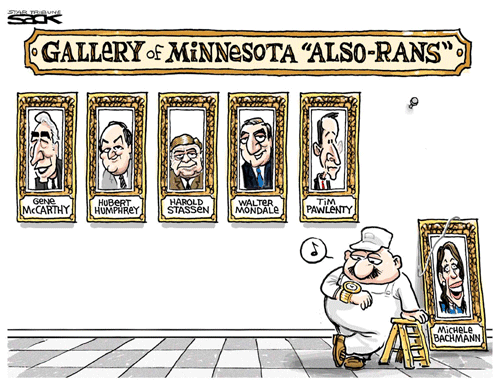 (Steve Sack via GoComics.com)
__
Dave Weigel breaks down the new Gallup poll:
… The most-covered non-Perry candidates, Bachmann and Huntsman, both lost support. Bachmann lost around a fifth of her support after she won Ames. But I doubt the media has much to do with this. There is a Tea Party conservative vote, and Perry has swooped in to take it from Bachmann. He grabs 33% of it; she has 12%. He gets 34% of weekly churchgoers; she has 9%. He even leads Bachmann in the Midwest, where she trails Ron Paul, too. The best thing Perry has going for him — the problem Romney was always going to have — is his Southern base. He leads Romney by the margin of error in every region of the country except for the South, where he leads 39-12.
__
So, call it: The Bachmann surge is over…
Perry/Romney/Perry 2012 — It's not just a campaign, it's a cage match!
Yeaaaah, I don't think it's that easy, either, much as it would please the robber-baron faction of the GOP. The theory is that Perry's own personal come-out-of-nowhere Texas-Miracle-ness was sponsored by the self-styled "conservative elite" to distract the teahadist mouthbreathers (and the Media Village idiots) after St. Michele of the Heartland proved a little too popular with her fellow Dominionists. But for all the pro-forma submit-to-your-menfolk rhetoric, I suspect that Bachmann may decide her own personal hotline to Jesus outranks her loyalty to a bunch of guys in tailored suits. Rick Perry is willing to bang bibles with the Dominionists because their agenda dovetails, at the moment, with the greater glory of Rick Perry. Michele Bachmann is a believer, and that's hard to fake and harder to dissuade.
Then again, maybe I'm just desperate to avoid 14 months of non-stop WILLARD!