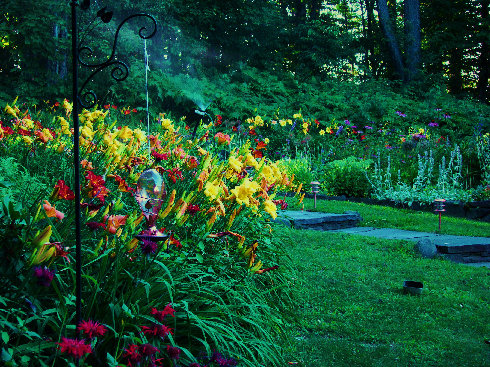 From commentor Pukebot (last Friday):
I've been meaning to you send some shots of my western mass garden and so when I saw your post that you were fresh out of shots I decided that it was about time. Everything you see was forest 15 years ago. I've been picking away at it ever since making new beds and filling in with easy things like day lillies. My garlic is drying in the basement, artichokes are growing and it's the time of year when you can't eat enough to keep up with the garden. I have a quick job to do today and then I get to spend the rest of the weekend in the garden, weeding, supporting phlox, and picking veggies. Tell me if the world blows up.
***********
Of course this weekend all the Northeastern gardeners are gonna be frantically tying up what can't be taken down, as our Southeastern neighbors hunker down and wait to see how bad the damage from Hurricane Irene will be. The latest local predictions are that Pukebot's garden will get the flooding rains, while my area north of Boston gets "tropical storm strength" winds. So if there's no Sunday Garden Chat, it may be that we've lost power due to a fallen branch. Here's hoping nobody has anything worse to report than some tomato trellises turned into tomato tunnels…
__
How are things looking in your gardens, whether or not you're in the storm track?
***********