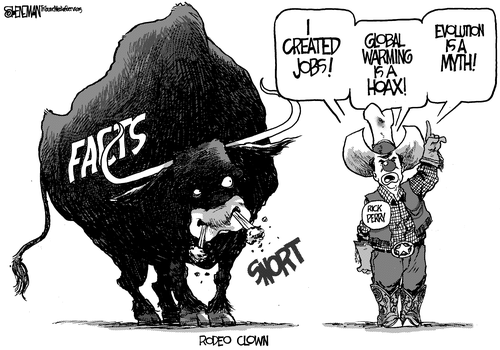 (Drew Sheneman via GoComics.com)
__
… which won't kill you, but might make you wish you were dead. For purposes of relief via moxicautery, a couple counter-irritants. Jonathan Chait at TNR wonders "Will No One Rid Me of This Meddlesome Candidate?":
… Yes, it's really time for somebody to start persuading moderate or mainstream Republicans that Rick Perry is dangerously unsuited to the presidency. If only Brooks knew of anybody who would be good at making a case like that…
__
Wait. Maybe this is a job for conservatives who don't have to put themselves before the voters. Like perhaps some kind of public intellectual. If only there was some kind of moderate conservative columnist, perhaps with a national reach at a newspaper like the New York Times.
__
Hey — I've got it. Brooks surely knows Ross Douthat. Maybe he can ask him to write that column!
__
And the invaluable Doghouse Riley, if only for the brillance of "With Luck, The Capitalists Will Innovate A New Knot To Hang Themselves With":
IF there was anything to American Exceptionalism–other than the fact that we dominate a hemisphere, and came out of two European global wars physically unscathed and economically better off than when we went in–wouldn't it show up in our politics? Wouldn't we have the wisest counsel, the fullest debate, the most trenchant commentary?
__
Would we have David Brooks at the New York Times?…
__
I'd just like to point out, yet again, how the "moderation" in Brooks' "moderate conservatism" works.
__
Brooks is going to say essentially what I said the other day about Mitt Romney: that he now finds himself unable to jab his leading rival because the same clinical insanity that infects the public persona of Rick Perry infects 80% of the Republican electorate. Brooks, of course, substitutes "small government conservative" for "certifiably batshit". It is the Times…
__
[T]he thing I find curious is how "moderates" like Brooks, and "fiscal 'conservatives'" like Mitch Daniels, act like the moderate conservative Reaganite in the White House is wearing an OSU sweatshirt in Ann Arbor. Look at what Brooks finally (in the last two paragraphs) gets around to saying about Perry: he's slimy, he's a panderer, if he's a borderline crook we need to redefine our borders. He leaves out (despite his economist credentials) the massive sucking sound at the center of the Texas Miracle. What th' hell's so bad about Obama by comparison? Health care?
__
Is he gonna say that? (Is Daniels?) Not and risk the franchise; you can't be The Moderate Republican Liberals Love if they've thrown you out of the Republican party. Brooks "watches" (the polls) as "moderate 'conservatism'" "disappears" from the Republican electorate. We hear barely a peep. That is, barely a third-hand sideswipe at Rush Limbaugh, or Sarah Palin, or the Teabaggers both he and Douthat had kinda sorta identified as the problem with the Party, circa 2007. Go back and read 'em in early 2009, as they start looking for a door to hide behind, realize it's no good, and so proclaim that the Teabaggers are really themselves. Just less refined.
__
Th' fuck's wrong with these people?
__
There may be more damning indictments of Republican "intellectualism" than the fact that these guys have spent the last thirty years inventing excuses for utter crackpotism, first with the idea of eternally harvesting its votes, now in the hopes that the 'conservative' welfare spigot will stay on, but you have to google "William F. Buckley" and "Civil Rights Movement" to find 'em.