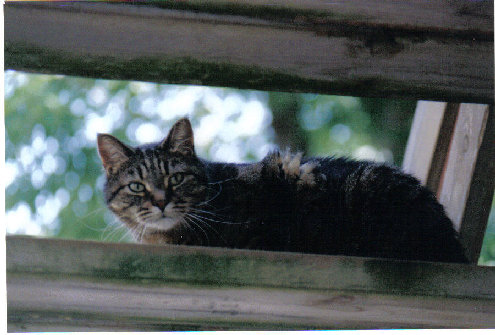 From commentor Neil in Rochester, MN:
I had my 17 1/2-year-old kitty put down today. I'm just numb right now, which allows me to even do this. But I must thank the commenters who shared with me last night.
__
I've always been a cat person. I certainly like dogs, but cats, with their character and presence (I call it "cattitude" and "catmosphere") are just more my speed.
__
Growing up in the 70s my family had a couple of cats. And, like most cats of the time, they were outdoor kitties, and they lived hard and died young. I loved those two cats, but I've since concluded that it's different when you're a kid. Once you grow up and actually have to actively care for and be responsible for an animal, the love goes up another level.
__
I went to college (intermittently) and business school (indifferently), and joined the working poor and moved around through the years. I wanted to get a cat for myself, but it was more than a decade post-high school before I felt I was in a living arrangement suited for one. Finally, in the spring of 1994, I was ready. I'd just moved into a nice, old, very cat-friendly apartment complex. My roommate at the time was good with it. And, as it happened, my workplace was not 20 feet from an animal shelter. You could literally walk out the front door, turn left and be inside after about 15 steps. So one day I did that.
__
I think we've actually come quite a ways, even in the past 15-20 years, as far as how we treat animals and what we know (science-wise) about caring for them. (Good to know that America has progressed in at least this one area.) I mention this because this shelter I visited, I have no idea if it was a no-kill shelter. I'm not sure no-kill shelters even existed in any significant number back then. So I just told myself that I was about to see a bunch of really cute kitties, most of which wouldn't make it out of there. But mine would.
__
All the cats were sufficiently nice, and they generally displayed that survival reflex that makes them particularly adorable in such sad circumstances. I wanted to take them all, but I was only getting one, and there really wasn't anything that made me want to take one over the others. I looked closely at one or two, but I still wasn't certain.
__
Finally, I noticed the one cat who wasn't making himself adorable. He just kept to himself in the back of his cage, uncertain, maybe even a bit fearful of getting noticed. He may well have been a feral someone picked up. Still he was tabby-ish, and mostly dark. I'd heard people gravitate towards lighter-colored cats. With his appearance and timid demeanor, I suddenly saw myself as this cat's one chance to ever leave that shelter. So that's how "this cat" became Nash, my kitty for 17 1/2 years.
__
I could tell you 100 things about Nash, but I've taken enough of your time. I'll just say that for most of his life, it was just him and me. And yet, when others met him, how ever briefly, they genuinely felt affection for him. It was easy to like Nash. Easier to love him. He was just the best cat ever.
__
Anyway I got through today, in large part due to the Balloon-Juicers who responded to my post on the night of Aug. 25. I read them all, and I'm truly grateful to everyone who commented. And for those of you who've also lost a pet, I'm truly sorry for your loss.
__
One thing I didn't expect today: Prior to the procedure, I off-handedly asked the vet how often they do euthanizations. She got this almost queasy look in her eyes and told me, "I don't keep count of them." Most of you are probably less clueless than me, but please remember that this sort of thing is hard on your veterinarian, too. Be sure to thank yours for being there for you.
__
Something I regret is that I let my financial issues prevent me from ever splurging for a nice digital camera. I could have taken so many cool photos of Nash, in his various states of rest and sleep. They're all forever in my head of course, but it'd be nice to e-mail them to the world. However, several summers ago, I dug out my old manual focus Nikon and, on a couple of different days, shot a roll of candids while Nash went about his business outside of my upstairs apartment. Business that included sun-bathing, rodent-hunting and eating an annoying amount of grass. So, the accompanying image was scanned from a physical photo. I don't expect it's the greatest resolution. But that was my Nash in '03. In his prime.
__
Again, thank you to the commenters who were there for me. I'm not sure how I'll ever get over Nash, but your words did help more than you know. Please hug your pets for me.