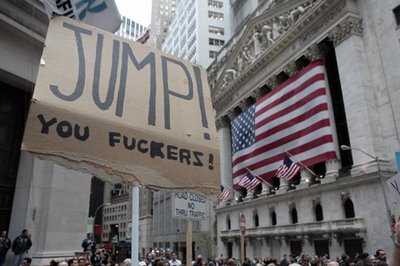 I know you will attack me for being simplistic, but these people make me want to vomit:
Battered by a weak economy, the nation's biggest banks are cutting jobs, consolidating businesses and scrambling for new sources of income in anticipation of a fundamentally altered financial landscape requiring leaner operations.

Bank executives and analysts had expected a temporary drop in profits in the aftermath of the 2008 financial crisis. But a deeper jolt did not materialize as trillions of dollars in federal aid helped prop up the banks and revive the industry.

Now, however, as government lifelines fade and a second recession seems increasingly possible, banks are finding growth constrained. They are bracing for a slowdown in lending and trading, with higher fees for consumers as well as lower investment returns amid tighter regulations. Profits and revenues are slipping to the levels of 2004 and 2005, before the housing bubble.

"People heard all these things before, but the reality of seeing the numbers is finally sinking in," said John Chrin, a former JPMorgan Chase investment banker and executive in residence at Lehigh University's business school. "It's hard to imagine big institutions achieving their precrisis profitability levels, and even the community and regional banks are faced with the same problems."

A new wave of layoffs is emblematic of this shift as nearly every major bank undertakes a cost-cutting initiative, some with names like Project Compass. UBS has announced 3,500 layoffs, 5 percent of its staff, and Citigroup is quietly cutting dozens of traders. Bank of America could cut as many as 10,000 jobs, or 3.5 percent of its work force. ABN Amro, Barclays, Bank of New York Mellon, Credit Suisse, Goldman Sachs, HSBC, Lloyds, State Street and Wells Fargo have in recent months all announced plans to cut jobs — tens of thousands all told.

Even as they cut payrolls, banks are exploring ways to generate revenue that could translate to higher costs for consumers. Among the possibilities are new fees for automatic deductions from checking accounts that pay utility and cable bills, according to people involved in the discussions.
So basically, while the rest of us have been mired in a deep recession since 2008, the banksters that were the cause of this mess have been shielded from feeling any pain. They were shielded by you and me- we gave them big heaps of cash, the Fed gave them trillions in loans, and the party continued on well into the morning hours, and they kept living the high-life, issuing billions in bonuses and whining about the Kenyan Socialist Muslim in snotty open letters and on the Fox Business Channel. Now, though, they are running out of blow, it's 8 am, and the dealer is out of what they need. So the cold hard reality of the economic slowdown they created is starting to sink in. Rather than revert to the behavior that banks traditionally engaged in until we decided as a nation that what we should do is turn banking and finance into speculative physics, a high stakes roulette with the best and brightest minds becoming quantitative analysts dreaming up new derivatives and other bullshit, they are going to look to new revenue streams.
And where will those new revenue streams come from? You and me, of course. And in the process, they will kill innovative new things, like automatic bill payment. How many of you are going to keep using automated billpay if the banks are charging you five bucks a pop?
Assholes. "The reality is sinking in…" Reality is 9% unemployment, wrecked retirements, and wrecked lives, you ponces.