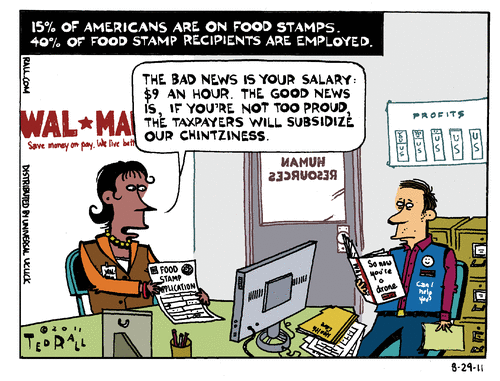 (Ted Rall's blog)
__
Things are tough all over:
527 group waned after Gingrich campaign imploded in June
__
The Newt Gingrich money machine that raised $52 million in just four years to promote his ideas and image, American Solutions for Winning the Future, has quietly gone belly up.
_
Gingrich set up the 527 group in 2007, but it began to lose fundraising steam almost as soon as the former House Speaker launched his presidential bid in May, Joe Gaylord, the group's chairman told iWatch News. It closed its doors early last month, an apparent casualty of Gingrich's beleaguered presidential drive…
__
Some GOP strategists and lobbyists familiar with the group say that the Gingrich "brand" was tarnished by his lackluster presidential drive, an effort that didn't seem to help his 527's fortunes. Gingrich's bid was battered in June by the departures of top staff who complained about the campaign's lack of direction and Gingrich's lack of focus. Among those who exited were campaign manager Rob Johnson, his long-time spokesman Rick Tyler, and a few fundraisers.