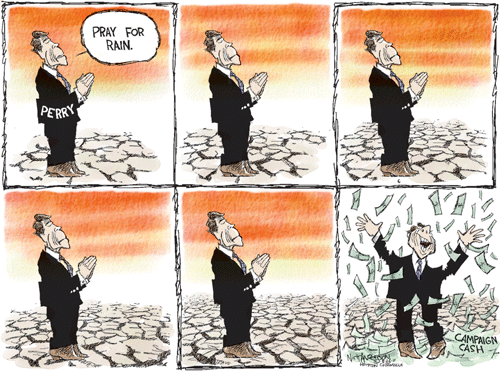 (Nick Anderson via GoComics.com)
In today's roundup of buyer's remorse from the Media Village, the LA Times has a nice succinct editorial summing up "The Problem with Perry":
Given the depth of his loathing for the federal government, it's a little surprising that Texas Gov. Rick Perry wants to preside over it. Indeed, in the preface to his book "Fed Up!", Perry writes: "Now, cynics will say that I decided to write this book because I seek higher office. They are wrong: I already have the greatest job in America."
__
Apparently not…
__
The Washington Post investigates why it's important that "Perry's travel, security costs will stay secret until after 2012":
Since Rick Perry joined the presidential race this month, his campaign entourage has included not just the standard array of political advisers and aides, but a squad of Texas law enforcement agents.
__
The security forces scout and secure locations days in advance. Well before the governor's visit to Tommy's Country Ham House in Greenville, S.C., the weekend of Aug. 20, more than a half-dozen suited and armed agents were giving orders to the crowd of more than 400.
__
How much is this ever-present phalanx of state policemen costing the taxpayers of Texas? They won't know at least until after next year's presidential election, thanks to a provision, tucked into a school finance bill in July, that will keep the governor's travel records sealed for 18 months.
__
Although security around public officials has been tightened considerably since the Sept. 11, 2001, terror attacks, the secrecy that surrounds Perry's travels is unique, according to Ken Bunting, executive director of the Missouri-based National Freedom of Information Coalition.
__
And the governor's critics contend that it has as much to do with politics as safety — especially after the embarrassment for Perry when taxpayers learned that they had been paying for scuba gear and golf cart rentals for officers who accompanied Perry and his wife to the Bahamas in 2004…
__
And the coastal elitists at New York Magazine's "Daily Intel" blog report that "Politico Asks an Impolite Question About Rick Perry":
Whether he's dumb. It's probably not a good sign when a reporter needs to devote four pages and talk to multiple sources to answer that one. Of course, it's also not a great sign that the question was posed at all, or phrased that way. Even "Is Rick Perry smart?" would have been slightly less damaging…
__
Perry prefers a different description for his brain, though.

"If Karl Rove hadn't been my consultant, I would not have been agriculture commissioner today," Perry told the Dallas Morning News in 1994, adding: "My brain is like a chicken pot pie. His is like a refrigerator that is all very organized — pickles here, salad there."

That's actually a very sophisticated metaphor! With great economy, Perry indicated that he finds Rove cold, briney, and unsatisfying…
Chicken pot pie — dubious leftovers, inadequate for a full meal, thriftily disguised with a schmaltz-and-cornstarch gravy and baked in a golden crust of dough. Now there's a campaign metaphor… for Perry's opponents.