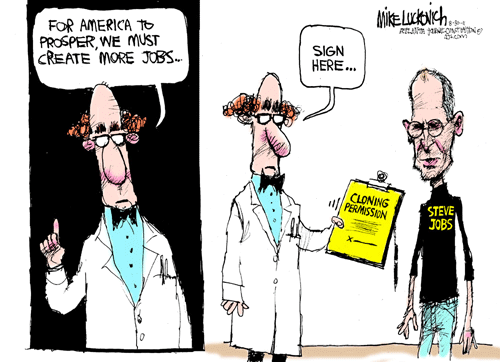 (Mike Luckovich via Gocomics.com)
__
Don't have a Mac, iPod, or iPad, but (or should that be "therefore"?) I LOL'd.
***********
Steve Benen at the Washington Monthly reports that my personal nemesis, Willard "Mitt" Romney, has decided he can no longer stand above the fray now that James Richard "Guv Goodhair" Perry is stealing the GOP primary limelight:
In a speech to the Veterans of Foreign Wars national convention today, Romney has apparently come up with an opening salvo.

According to excerpts of the speech released by his campaign, Mr. Romney plans to say: "Career politicians got us into this mess, and they simply don't know how to get us out!"
__
It is an argument Mr. Romney has made repeatedly on the campaign trail — that he is not a career politician, and is one of the few candidates, having spent 25 years in the private sector, with the know-how to create jobs — but never in such a pointed contrast to Mr. Perry, who first entered politics in 1984 and has not lost an election since.

… Romney's reliance on his private-sector background is itself problematic — he got rich by putting thousands of Americans out of work.
__
But even if we put all of that aside, the "career politician" line seems especially odd given Romney's background. Isn't this the guy who ran for the Senate in 1994, ran for governor in 2002, ran for president in 2008, and is running for president again in 2012? Indeed, by most measures, he's been running for the White House continuously for more than four years.
__
In other words, wouldn't Mitt Romney be a career politician, too, if only voters liked him a little more?
As a stickler for accuracy, I must point out that Willard started his vulture-capitalist career with a mere multi-million-dollar trust fund, although in true Galtian fashion he's used all the tools of the modern MBA sociopath to multiply that into a quarter-billion-dollar fortune for his campaign managers to steal from his own kids. But President Obama can safely state that Romney has devoted his life to destroying American jobs in both the public and private sector… or is that going to be the Romney campaign's advertising pitch to his fellow Republicans?