Such a good night. Had a great scotch before dinner. Then had an aged NY strip I cooked on the grill, some fresh tomatoes from the garden with a little fresh basil and some mozz., a nice light garden salad, finished with a scoop of vanilla ice cream and a shot of Bärenjäger, and now I am drinking some solid black coffee and getting ready to raid (Warcraft) with guys I have known for years online. Not to mention, the Steelers are playing and I have the world's greatest dog with me: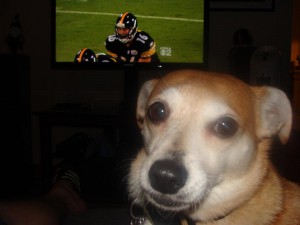 I'll just leave you with this:
I'll be back after heroic Ragnaros. Because Charlie Sheen was a piker.