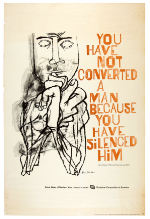 Back in the McCarthy Era, Ben Shahn put that on a lithograph, without which no right-thinking leftist household was complete. Of course, that was pre-internet, therefore Oldthought, and obsolete. Because if "we" can cyber-bully someone into shutting up, WIN!…
No.
I apologize in advance to those of you who don't care for internecine blogwar, but Cole doesn't read my emails any more than he reads my posts. And now Balloon-Juice has its very own James O'Keefe playing dress-up, who's succeeded in tweaking the delicate sensibilities of our Very Dedicated President Obama Supporters in order to get another long-time commentor banned. This is not only despicable, it's counter-productive. There are good reasons why Cole has always reserved banning for genuinely non-sequitor hate speech and personal attacks/stalking… not for protecting the tender feelings of wannabe tribalists looking for a warm bath of positive affirmation.
__
__
To ABL:
Echo chambers are for narcissists. Hunting for logic-chopping excuses to ban commentors who don't agree with you is petty, small-minded, and ultimately works against your (our) best interests. As some ten thousand previous voices have said, if you don't like someone's words, don't read them.
__
Strutting your Mighty Ban Hammer in front of a cheering crowd of hand-picked supporters may make you feel like you've accomplished something, but the Ari Fleischer "Some people ought to watch what they do, watch what they say" philosophy is best left to our enemies.
__
__
To ABL's Hallelujah PC Troll Choir:
President Obama is not reading this blog. President Obama's people are not reading this blog. President Obama's peoples' people are not reading this blog. (If there is an entry-level NSA employee tasked with monitoring this blog, I hope they at least enjoy the pet stories and food pr0n.) Your fervent adulation herein cannot gladden the President's heart, nor our occasional misgivings weaken his fierce resolve. And the chances that any one of you will be offered Kalpen Modi's old job are vanishingly remote. President Obama is assured of my vote; he neither needs nor desires my fealty.
Unless she wants pet stories and food pr0n, Jane Hamsher doesn't need to read this blog. Every scrap of political information relevant to her interests, however peripherally, will be recursively tweeted by this week's version of #TeamFvckYeah as they mob her like starlings over a farm combine. John Cole's house has many mansions, and you can be sure of multiple posts on any given day where fondling your joint antipathies is on topic. Compulsively befouling every single thread with the millionth iteration of how you hate emoprog firebaggers soooo bad will not impress us with your winning ardor; it will make us wonder if part of Balloon Juice's service to the general community involves distracting you from cyberstalking strangers on Facebook or torturing small animals. This is not instructional, inspirational, entertaining, or helpful to your larger goals. Demanding that anyone who injures your self-esteem be silenced marks you as just another authoritarian thug playing Tuff Guy on the internet.
***********
I know good, thoughtful people have quietly left as a result of previous PC crusades, because I've missed their voices, and because one or two of them have sent me farewell emails. And I know this post is going to attract another spate of abusive comments/emails darkly insinuating that I can be tracked down and dealt with as I deserve, to which I reply: Your mamas must be very proud, right now.