Apparently Dick Cheney has emerged from his undisclosed location/hyperbaric chamber and is still wowing the usual suspects with his wit and charm and gravitas: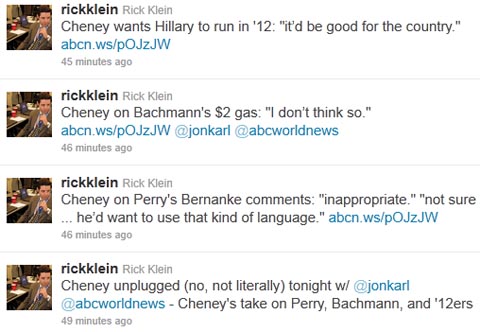 Why are they still interviewing this guy? Why is he on my tv every night? He's a disgrace. Someone mentioned this delightful post in the comments the other day, and I think it is relevant when discussing Tricky Dick Two, Electrocardiograph Boogie:
Fibbers' forecasts are worthless. Case after miserable case after bloody case we went through, I tell you, all of which had this moral. Not only that people who want a project will tend to make innacurate projections about the possible outcomes of that project, but about the futility of attempts to "shade" downward a fundamentally dishonest set of predictions. If you have doubts about the integrity of a forecaster, you can't use their forecasts at all. Not even as a "starting point".
Stop interviewing him. Putting aside the fact that he is completely irrelevant, he presided over the worst eight years of governance this country has ever seen. On top of it all, he's a liar. What exactly does someone have to do before they are disgraced enough that the bobbleheads will ignore them?
Personally, I don't want to hear Dick Cheney's name ever again, unless the words "obituary" or "war crimes tribunal" are in the same sentence. And I don't care if that gives Sullivan or any of the other beltway boys the vapors (MOORE AWARD! MOORE AWARD!)