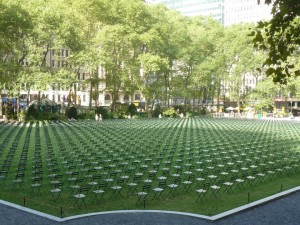 When you are 93, if you have lived a full life, death can be an old friend, like one of those distant relatives you met as a child and who pops in to visit with somewhat rhythmic regularity throughout your existence. She's something of a constant – grey haired now, with bifocals, but still wearing that unfortunate green cardigan and that odd air that leads to so many uncomfortable pauses when she stays for tea. She always attends funerals, but occasionally comes at Christmas, clutching a bottle of cheap sparkling red, or sometimes in the dead of night.
As an old friend, she's not that scary anymore. Your interactions with her are generally quite civil, as most of your gripes with her are in the past, smoothed over and forgotten like the time Aunty Ethel took Mother's diamond earrings while the old dear was on her deathbed or what Uncle Frank said about Ethel at the funeral afterwards. You know that someday soon she will ring the doorbell, grinning that toothy grin she grins at times like these, and if you are lucky she will be kind and it won't hurt very much.
But sometimes death is a spiteful bitch, and she shows up one September day at the office or on the plane you caught that morning, or you see her on a bus in London or at a nightclub in Kuta or on a desert battlefield somewhere, or she drops into your daughter's wedding somewhere in Pakistan or Afghanistan and, as death is wont to do, she wipes out young lives, old lives, lives fraught with promise, with one twitch of her hand, and every life lost a tragedy.
You'd think that, at 93, and as a lover of words, I'd know what to say on days like this. However, it's about this point in the proceedings that such facility with words as I have deserts me, so I will just point you to the story of one man killed ten years ago today, who seems to me to have had the right idea.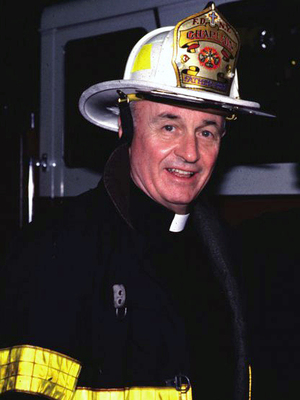 When planes hit the World Trade Center on Sept. 11, 2001, Father Mychal Judge ran into the North Tower alongside the firemen he served. Not long after, he became the first recorded victim of the terrorist attacks.

But 10 years later, his friends and colleagues remember Judge as vividly in death as they knew him in life: a gregarious, irreverent man wholly devoted to God, whom many considered a saint, in large part because of his own personal struggles.
…

Judge was also a celibate gay man in the priesthood, a fact he revealed only to a select few. Brendan Fay, a gay activist who co-produced The Saint of 9/11, a documentary about Mychal Judge, says the chaplain's struggles drew people to him.

"Mychal sort of weaved his way in and out of groups that wouldn't be caught near each other," Fay says.

Republican Mayor Rudi Giuliani and Democratic Mayor David Dinkins; conservative and liberal Catholics; stock brokers and street people — all claimed him as a friend. One reason, Fay says, is that even in the dark hour, Judge could make life a celebration.

"His mother always reminded him, 'You can't go wrong with a song. When you don't know what to do, sing,'" Fay says.

Judge was famous for his rendition of the murder ballad, "Frankie and Johnny," which he sang at birthday parties. He once sang "God Bless America" at the funeral of a gay man in the middle of the AIDS epidemic.
———————
Top Image: Jill Colvin, DNAinfo:
Bryant Park's normally bustling lawn was transformed into a solemn memorial Friday ahead of the 10th Anniversary of the September 11th terrorist attacks.

Midtown office workers looking for a place to soak up the sun instead found the lawn lined with 2,753 empty chairs facing south toward the fallen towers — one to honor each person who died in the attacks.
Bottom image: Holy Name Province Franciscans
H/t: Towleroad for both articles.