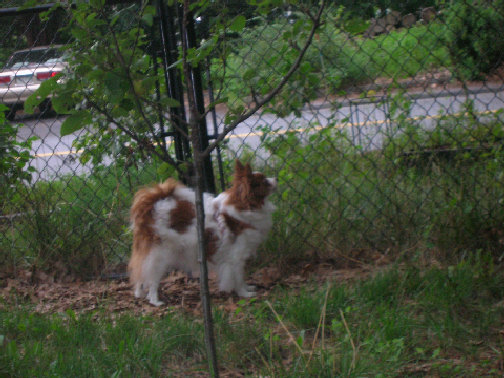 Since I'm clean out of garden photos from commentors, you're stuck with my pathetic freeholding. This is Zevon, tomato connoisseur, inspecting "his" vines — the planters are on the other side of the fence, but he's entitled to pick all the Sun Gold and Sweet Treat cherry tomatoes that cascade over it, a duty he addresses with great seriousness.
The spindly little sapling dividing the shot is a mail-order tri-grafted Asian pear, planted last summer. Viewpoint is a 45-degree angle from the cellphone shots I posted a few weeks back… planters along both sides of a strip of asphalt driveway, a divider strip planted with lilacs, an asphalt sidewalk and into the city street. There are also blueberry bushes on Zevon's side of the fence, but they didn't flower or fruit this year, alas. Urban homesteading!
For fairness, the photos below are black-and-white Gloria, failing to understand the attraction of nicotine-scented plant matter (she'll eat ripe tomatoes, but she doesn't appreciate Zevon's dedication to their cultivation). And finally Sydney, puppy-mill-born pet-store rescue, who would rather invite himself up onto the table to investigate the Spousal Unit's breakfast than play in the grass.
So, to repeat the standing plea invitation: Email your garden pictures to AnneLaurie @ verizon. net (or click on my name near the top of the right-hand column). There must be some harvest shots worth sharing!