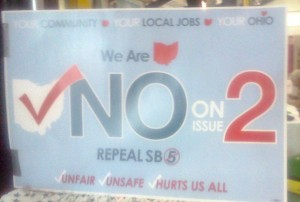 We Are Ohio had a booth set up at a local event, so I spent a couple of hours around there yesterday. It was generally low-key and subdued, which I attribute to September 11th, mostly because every single person I spoke to referenced September 11th.
Other than that, just quiet, substantive discussion about the repeal referendum itself and some idle speculation on whether we'll succeed with the citizen veto.
I did get one gentleman who was honest enough to approach and ask me straight up "what is SB 5?". He had no idea what all the fuss is about and was willing to admit that. I explained that the law removes collective bargaining rights from public sector employees, and he said "that doesn't sound good", and it really doesn't, particularly when I'm the one describing it.
These are some of the union members who volunteered: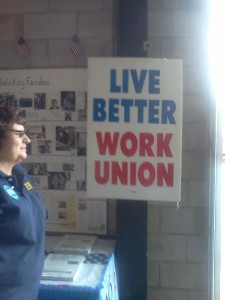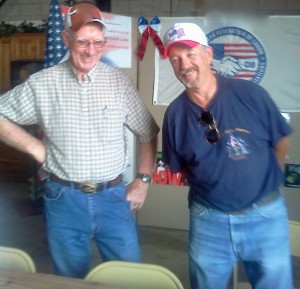 One of the people pictured belongs to a public sector union and the other two belong to private sector unions.
I told them I intended to put their photos up on Balloon Juice. None of them had any idea what that means, of course, so I showed them the site on my phone. They all politely looked, but, really, they still had no idea what I was talking about.
So, I told them Balloon Juice is a political site out of West Virginia run by a person who is, to the best of my knowledge, a short-order cook. They seemed satisfied with that answer.