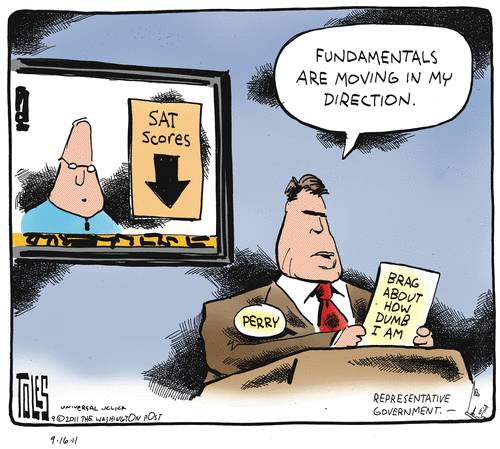 (Tom Toles via GoComics.com)
__
Since I worried about this on an earlier post, props to Dave Weigel for following up, and applause to Rep. Kathy Hochul, winner:
All week, I've been wondering if the Democratic loss in NY-9 proved that Democrats were losing entitlements as a wedge issue… Why not [ask] Kathy Hochul, the Democrat who won NY-26 largely by clobbering her Republican opponent on the Ryan plan? I asked Hochul about this after a vote this week. Her spin:

"We need to cut the underlying costs of health care, which are making Medicare more expensive. Democrats are in agreement — we talk about this all the time. We have to make sure that we get equity with respect to prescription drugs — the drug prices under Medicare are obscenely high. Why are veterans at VA hospitals paying less for prescription drugs than people who are under Medicare Part D? That's an area we should go after. Medicare fraud is getting out of control — just look at all the prosecutions on Medicare fraud. I think we should have Medicare cover home health care. Look at the savings we'd have if we covered home health care and tele-health services. Instead, people in rural areas have to go hospitals at the dead of the night. If we look at this holistically, we can cut the underlying costs."
__
That's how Democrats can win? "That's what I'm saying. I don't want the Medicare beneficiares touched. They can't afford to have $7000 out of their pockets, as was proposed in the Ryan budget."
Consider this an Open Thread, because I said so.