I went to the state party Women's Caucus meeting in Cleveland yesterday. Jennifer Brunner was there, and I finally broke down and purchased an actual camera last week, so I took her picture: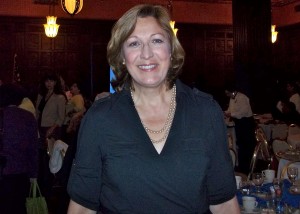 She was very excited for me, that I had a new camera. I think you can see that in her face.
The women in the county where I live were really taken with Brunner in 2006, and she came out to the boonies several times to meet with us. She was elected Secretary of State in Ohio in 2006 and almost immediately became the favored target of the media personalities at Fox News:examples here, here and here. As you may know, GRETA VAN SUSTEREN is the Fox employee who is tasked with misrepresenting US election law and process to Fox viewers, so she was the lead on the coordinated Brunner smear.
Brunner said yesterday that she had intended to take a hiatus from political battles for a while, but then Ohio Republicans passed a voter suppression law so she's back out explaining actual U.S. election process, or, the unglamorous and dull mechanics of voter registration and voting.
Brunner was a Common Pleas judge in Ohio before she was Secretary of State, and to me she still sounds like a judge. Her speech was very lawyerly and restrained. She simply outlined the changes in voting process that Ohio Republicans have instituted, and listed the problems for voters that she anticipates as a result of those changes. The crazed ACORN warrior that Fox News anchors invented has absolutely no connection to the reality of Jennifer Brunner, so there's a shocker for you, out of Cleveland.
Cecile Richards was there (obviously, I didn't take this photo) h/t Jezebel
Cecile Richards is the daughter of Ann Richards, the former Governor of Texas.
A 2004 Texas Monthly profile described her as " a striking six-footer and longtime labor organizer with a bright, explosive laugh who can stop a room when she walks into it just as her mother can."
I agree with that description completely.
I had never heard Richards speak before, and she was very good. She described the Republican and media assault on Planned Parenthood in great detail; how and why it "spontaneously" arose and was everywhere, all at once. She said the GOP assault on Planned Parenthood at both the state and federal level was "like dropping a match on dry tinder", and that she believes the crazed rush to destroy Planned Parenthood led directly to half a million new members for Planned Parenthood since the midterm elections. I don't know how many new members Planned Parenthood ordinarily gets in any year, but a half million new members certainly sounds like a lot, so thanks for that, conservatives.
Good turn-out, and the women didn't seem to me to be any more fractious, combative or disarrayed than any other large (or small) group of Democratic Party activists I've encountered. The biggest applause line of the day was the call to re-elect Obama and Sherrod Brown.