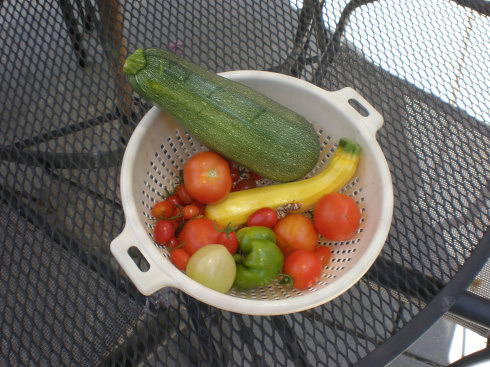 From commentor Feebog:
Attached is a pic of my harvest from the middle of last week. Grape tomatos, early girls (still going) and romas. Plus a yellow zuc and a small bell pepper. I'm in SoCal and the weather, except for last week, has been surprisingly mild.
***********
From commentor RossinDetroit:
__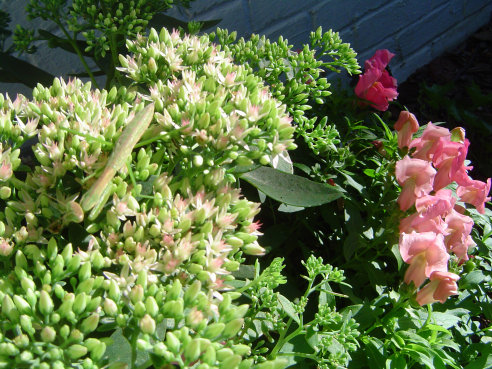 This mantis took over a large blooming sedum plant on our porch for a couple of weeks. He was right next to the front door so we called him Buggsy the Doorman. I left the porch light on at night to attract more food insects for him. He grew from a nymph to an adult, then wandered off on his mantis business. We get a lot of mantises in the summer and I always try to protect them because we like big cool weird insects.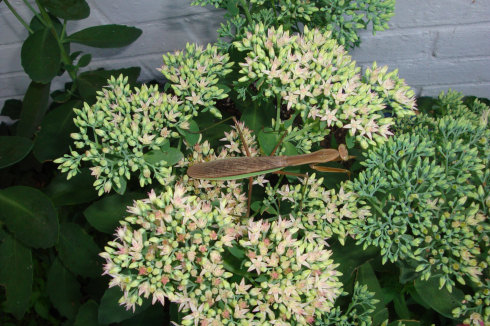 ***********
Not much gardening around here this week, because I'm recovering from unpleasant allergic reactions to the nasty, tiny-pink-blossomed invasive that's trying to take over our back yard. Spousal Unit haz a sad — he thinks it's "cute" — but that particular creeping crud is gonna be Roundup'd as soon as local weather conditions permit. Anybody got recommendations for a shade-tolerant grass seed or grass replacement that will stand up to foot traffic and won't poison our little dogs?